Monday
Mandala Projects
Nova Scotia: Our Strengths, Our Future Public Forum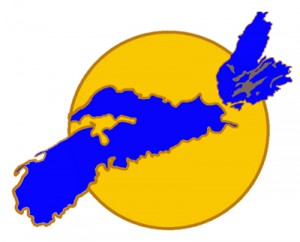 report by Jan Morrison and Marty Janowitz
Spring is fickle in Nova Scotia, so when more than 150 people gather indoors on a warm and sunny Saturday, you know something special is happening. March 31st was just such a day in Halifax as the Shambhala community hosted an open forum entitled Nova Scotia: Our Strengths, Our Future at Heritage Hall at the Canadian Museum of Immigration at Pier 21. The forum was one of the events being held to commemorate the 25th anniversary of the Parinirvana of Chogyam Trungpa Rinpoche, but the majority of attendees and presenters were neither Shambhala members nor immigrants. Native or immigrant, practitioner in any faith or sector, the presentations, panels and table discussions expressed a shared aspiration and commitment to fulfill Nova Scotia's potential as an 'enlightened society' marked by what one speaker called "unshakeable creative decency".

It seemed fitting that this gathering took place at Pier 21 which was the gateway to Canada for more than one million immigrants in the 20th century and the departure point for 500,000 Canadian Military personnel during World War II. Although this ended prior to the Maritime Buddhist immigration, the Hall has been an important gathering and practice place for the Shambhala community which has hosted all manner of events, and ceremonies beneath a ceiling hung with flags from many countries and framed by large glass windows opening to the harbor and George's Island. Most recently the Hall hosted the Sakyong's Shambhala Day address. It is also upstairs from the exhibit Great Eastern Sun: The Shambhala Community in Nova Scotia, another magnetic opportunity for Nova Scotians to explore and understand Shambhala's journey to and within these shores.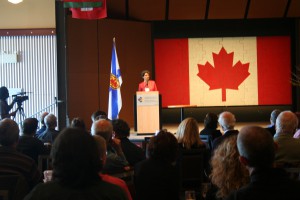 The program was a combination of Ted-style talks and small table discussions cheerfully hosted by Gabrielle Donnelly and Jeff Torbert, members of Nova Scotia's growing younger generation of engaged Buddhists. There were also some elements intentionally expressive of Shambhala's attention to the value of an artfully designed and mindful container – from beautiful flower arrangements to the opening ceremonial Kyudo 'heart offering' shot by Sam West.
The purpose of the event was captured in a pre-event letter written to potential Shambhala business sponsors by Co-Chair Marty Janowitz:
"The Public Forum is inspired by a desire to show our appreciation for Nova Scotians and Nova Scotia, our home for more than 25 years and the epicentre of Shambhala vision.

Little could we have expected the many treasures of spirit we have been offered by our fellow Nova Scotians. The energy of (Shambhala) infuses the water and hearts that surround us. This landmark Parinirvana anniversary is, in my view, an unusual opportunity to simultaneously celebrate the profound generosity of our lineage, our teacher and the community that continues to embrace us."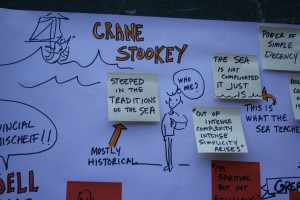 The secret was to mix a wide range of perspectives together for an afternoon and let them share ideas and inspiration. The event didn't focus on Shambhala although Marty's opening remarks included an 'answer' to the question generally and politely not asked: "Why did Shambhala come to Nova Scotia?" Various other non-Shambhala speakers made a number of kind and positive comments about the impact this unusual immigration has had on the evolution of the region. Marty did point to Trungpa Rinpoche's intuitive and spontaneous connection to what he described as elemental energies and qualities that were embedded yet available in the societal 'DNA', that Rinpoche often described as basic goodness. The real emphasis was on exploring those underlying strengths of character, resource and community that have long formed the foundation of this region and from which we can draw towards realization of a society best expressing those attributes. Around those topics there was no shortage of ideas or energy, well beyond what this short article can capture (but much of which will be available through recordings of the presentations).
One of the afternoon's highlights was when the Reverend Russell Daye of St. Andrew's United Church invited the assembly to consider Nova Scotian's long-held ability to connect with 'crazy wisdom' and therefore to actively pursue the enhancement of "Gross Provincial Mischief", seemingly a mix of humble, ironic, determined creativity in the face of adversity. One attendee suggested that the rugged and difficult qualities so present here ultimately made life so rich and enriching.
The roster of speakers served to stimulate and inspire. They included people with diverse experiences in government, the arts, business and civil society: former leader of the Liberal Party and restorative justice pioneer Danny Graham, former Minister of Environment (Conservative) and co-chair of the National Round Table on Environment and Economy Mark Parent, former Member of Parliament and playwright (New Democratic Party) Wendy Lill, Nabiha Atallah of the Immigrant Settlement and Integration Services, Chris Bryant of the province's Office of Policies and Priorities, Crane Stookey founder of the Nova Scotia Sea School, Rev. Russell Daye, and Senior Editor of the Shambhala Sun Barry Boyce also spoke from the podium. While each speaker came from a different experiential base they shared a common perspective – despite challenges, our tradition and commitment into the future must be not to lose heart and to continue to work together leveraging essential community values to make the kind of progress that we want – summed up by one as "close, kind and outrageous".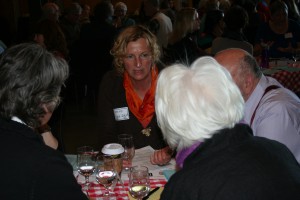 Two cycles of table conversations were hosted by more than two dozen hosts of diverse backgrounds and stories, prepared to guide participants in conversation around first 'our strengths' and later 'our future'. Some themes predominated – small is big, big is small; children, elders, friends, inclusiveness, diversity and relationships matter; and 'crazy wisdom' whatever that is, is tangible and welcome. Highlights were harvested in plenary comments, numerous sticky notes organized on the walls, and a large and dynamic visual recording sheet brilliantly completed by Marguerite Drescher. A tea-coffee break served to continue caffeine-energized conversations. At the close there was a percolating question: what next? Both the organizing committee and others have been invited and will continue to explore that question so that this one-day event can become a platform for further engagement.
The event organization itself seemed to reflect the forum's nature. It was organized by an informal volunteer organizing committee that was self-originating and energized. Co-chair Sally Walker was the indispensable glue and activator, actively supported by coordinator Julia Creighton with diligent contributions by members Kay Crinean, Carolyn Gimian, John Odenthal, Michael Speraw, Robyn Traill, Colin Stubbert and co-chair Marty Janowitz.
As the final podium speaker Barry Boyce gave the wrap-up by generating a pithy, humorous and incisive top ten list of slogans for raising Gross Provincial Mischief, all drawn from the day's voices. His top four were:
4. Don't forget: Nova Scotia is not a random rectangle.
3. Embrace the power of wild things.
2. Gather near the water. Do poems. Find and tell the deeper story. You won't regret it.

…and the number one motto for Raising Gross Provincial Mischief (GPM) and doing the opposite of what's expected and dipping your toe into crazy wisdom:

Start a ribald kitchen party in the Glace Bay of your own mind.
Although it has been more than 25 years since the first Shambhala Buddhists arrived in Nova Scotia, this event was a first and relevant one for wherever Shambhalians are engaged in communities. We encourage all to gather some people with an organizing streak, get together with a group of committed citizens to explore the highest possibilities for your community's future, and remind each other why you've chosen this spot to shine. The forum was sponsored by the Chogyam Trungpa Legacy Project and the Kalapa Shambhala Society, with support from many local Shambhala businesses.
Post Tags: