Monday
Community Articles, Northern Europe
Getting Londoners to Slow Down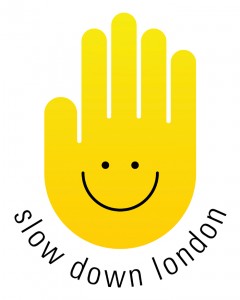 By Tessa Watt
In this particular dark age, our distraction often manifests as speed. Speed kills the space in which we could appreciate what we're doing. That frantic quality creates its own power and momentum, which begin to rule us. Because we can't rest in the present moment, we can't be satisfied. — Sakyong Mipham Rinpoche, Ruling Your World (p. 45)
Like many people, I first came to meditation as a refuge from the speed and stress of urban working life. London in particular is such a huge, buzzy city, where the sheer size means we can spend half our day rushing from one end to the other, and bumping into the tourists who dare to stroll idly and get in our way. Shambhala Buddhism shows us how meditation can slow down our minds and bodies, allow space and teach us to appreciate our world instead of rushing through it.
This is the view behind Slow Down London, a campaign and festival I'm organising (with like-minded friends) that will take place across the city from April 24 to May 4, 2009. Slow Down London aims to inspire people to challenge the cult of speed and appreciate their lives. It will give participants a chance to try meditation and yoga, to explore slow music and arts, to sample slow food and crafts, to discover "slow travel" in the city, to debate ideas about time and pace and to find ways to create more space in our lives.
Our partners range from big national venues like the British Museum, Southbank Centre and National Portrait Gallery to walking groups, art galleries, yoga centres and not least the London Shambhala Centre. Senior practitioner Jim O'Neill will lead a workshop called "Live Life in Real Time: An Introduction to Meditation for Busy Londoners," and Herb Elsky will come from France to teach a day on contemplative arts.
The festival will kick off on April 24 with the Big Slow Walk–a mass walking meditation across Waterloo Bridge, with some of London's loveliest river views, led by a Shambhala team including Jane Ward. We're also sending out meditation instructors to teach lunchtime meditation sessions in workplaces.
Slow Down London is capturing wide attention, with media coverage ranging from leading British newspapers like the Times, the Financial Times and the Guardian, to BBC TV news and Reuters, to news outlets from across the U.K., Germany, Spain, Ireland, the U.S., Brazil, Australia, Canada and more. BBC World Service radio hosted a fascinating global phone-in, with contributors from Lagos, Nigeria, to Singapore giving their perspective. Most coverage has been favourable, or at least open-minded, but writers from the U.K.'s famously aggressive tabloid press have been hostile to the whole idea of slowing down–are we perhaps hitting a nerve?
The speed with which "slowing down" has become a water-cooler talking point suggests that the campaign's theme is resonating widely and deeply with many people, locally and globally. We don't expect that slowing down London, or the planet, is a quick fix. We do know that meditation has a crucial role to play. It's not about always doing things at a snail's pace or making speediness into an enemy but, rather, finding ways to work with our speed with humour and awareness. As Chogyam Trungpa Rinpoche wrote:
Meditation is working with our speed, our restlessness, our constant busyness. Meditation provides space or ground in which restlessness might function, might have room to be restless, might relax by being restless. If we do not interfere with restlessness, then restlessness becomes part of the space. We do not control or attack the desire to catch our next tail.

Meditation practice is not a matter of trying to produce a hypnotic state of mind or create a sense of restfulness … Meditation is giving a huge, luscious meadow to a restless cow. The cow might be restless for a while in its huge meadow but at some stage, because there is so much space, the restlessness becomes irrelevant. So the cow eats and eats and eats and relaxes and falls asleep. (The Myth of Freedom, pp. 48-9)
For more information visit our website.
_________________________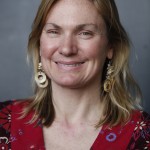 Tessa Watt was a senior producer at the BBC for many years, recording international documentaries and creating their world music website. Since going freelance, she has directed a large arts project, Africa Beyond, and most recently conceived and organised the Slow Down London festival and campaign. Tessa teaches yoga as well as being an active Shambhala meditation instructor. She has been in the sangha since 1993 and is currrently head of communications at the London Shambhala Centre. Her own journey to find ways of calming her "inner speed demon" has been a source of inspiration for developing Slow Down London.
Post Tags:
contemplative arts
,
London
,
meditation
,
speed