Tuesday
Atlantic Canada, Community Articles
Community Garden Reaps Rewards in Spades
By Bob Cervelli
St. Margarets Bay, Nova Scotia, is well known for its ocean frontage, beaches, and close proximity to downtown Halifax. Many residents here can easily commute into the city for work. The "bay sangha" is a vibrant group and includes the Gyatso (Ocean) Deleg. Most members are involved in gardening at some level, and we have learned to help one another in a true community gardening effort.
Gardening in a maritime climate presents its challenges. The ocean is beautiful, but the cold ocean water cools the air in the spring. Thus April, May and June can be chilly, foggy, and misty–great for lettuce and peas but not good for tomatoes and other heat-loving crops. Local gardens benefit enormously from using starter plants reared in a greenhouse, giving them a jump-start when transplanted into garden beds or cold frames.
Two years ago, I constructed a 7-by-18-foot greenhouse attached to a workshop, using local sangha-produced hemlock. Use of this greenhouse for starter plants quickly grew into a community-wide effort involving as many as 10 households. Beginning in March, we e-mail requests for weekend volunteers with a description of the work required for a particular weekend.
Initially, plug trays need to be filled with potting mix and seeded with early cool weather crops such as spinach, onions, chard, lettuce, Chinese greens and celery. Later in March, these first trays need to be thinned or transplanted so that one healthy plant grows in each plug. We then plant more trays with warmer weather plants such as tomatoes, peppers, tomatillos, eggplants, cucumbers and zucchinis. Typically, as many as six to eight people work in tight quarters in the small greenhouse over tea, snacks and good conversation.
The greenhouse fills up quickly, with every space taken over by plug trays. During the week, it is a small task to keep everything watered on a daily basis using a watering wand. Pretty soon the call goes out: Come and get the first starter plants! By mid-April, people are planting spinach and lettuce starters–two- or three-inch-high vigorous plants that give an instant garden. The first salad greens can be picked in two or three weeks. Many in the community enjoy spring greens long before the traditional Nova Scotia planting time of late May.
This routine of plug trays continues through most of the summer and fall, but at a lower level. August and September are important times to start many of the leafy vegetables. The St. Margarets weather rewards us in the fall, when the warm ocean water keeps the chill out of the air well into November. Many people pick hardy vegetables such as kale, tatsoi, bok choy, onions, parsley and celery right up until the winter solstice.
Using a greenhouse, cold frames, and knowledge of proper planting cycles, we have stretched the growing season to almost 10 months of the year. My wife recalls the many times I have gone out into the garden to harvest with a headlamp, snow shovel and basket.
The benefits of community gardening are manyfold. First, it is all about community. People are able to work together, share their lives, and see the benefit for themselves and others. It also is about sharing knowledge. Everyone has some valuable experience or bits of wisdom to offer about gardening, garden pests, recipes, or food preservation. In addition, community gardening encourages people to share their resources: Some contribute heirloom seeds, some lend a truck for collecting compost or seaweed manure, some offer pots or potting mix. Finally, it enables us to buy in bulk to save money–not just on potting mix and pots (purchased with a growers discount at the local greenhouse supply company, Halifax Seed) but also on seeds. For example, one package of arugula costs about $2.95. But for about $4.95, we can buy 125 grams–about 50 times more seed! This year we purchased 43 varieties of seed. For example, for just the tomatoes, we bought three cherry types, one beefsteak type, and several types for making paste or freezing.
I think the most valuable aspect of this community gardening project has to do with inspiration. We all enjoy the experience of working together to learn more about gardening and expand the rewards and bounty it brings. Knowing that we grew them makes the vegetables taste especially great, and inspires us to do more. Our gradual ability to rely less on imported food gives an important sense of possible independence from the agribusiness food chain.
Of interest to some may be how much time I spend on gardening. Between March and November, I average about six hours per week on garden-related activities–mostly on weekends, with some weeknights thrown in. At this level of effort, I have been able to provide all of the produce my family of four consumes between July and October and much of the produce we consume the rest of the year. Even in the dead of winter, there is usually something in every dinner that came from the garden. In the kitchen, onions and garlic hang in long strands, and a basket of squash is next to the counter. The freezer holds tomato or tomatillo sauce, pesto and edamame soybeans, and we have shelves full of pickles, dilly beans and pickled peppers.
It is my personal hope that many people around the world can reconnect to community gardens–by far the best source of food.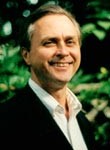 Bob Cervelli has been actively involved in the life sciences technology sector in Nova Scotia for over 21 years.  Robert has helped found several Nova Scotian technology companies developing medical diagnostics, cancer therapy and vaccine enhancement technologies.  Mr. Cervelli is currently the President of Origin BioMed Inc., a Halifax over-the-counter drug company, providing innovative products to drug store chains.  He holds a B.Sc. degree (Forestry) from Purdue University and a M.Sc. (Botany) from the University of Wisconsin.  Robert's personal interests include local economics, local currencies and sustainable community-based agriculture.  If you cannot find him in the office, you can find him in the garden.

Editor's note: This article is part of a trio on gardening that represent, respectively, Heaven (ground), Earth (path), and Man (fruition). The set is best read as a unified vision. David Wimberly's article (ground) can be found here, Olivia Kirby's article (path) can be found here, and Bob Cervelli's article (fruition) can be viewed here.
Post Tags:
gardening
,
Nova Scotia
,
Protecting the Earth
,
sustainability