Tuesday
Community Articles
Creating Gardens of Compassion
By Olivia Kirby
Shambhala vision is based on living on this earth, the real earth, the earth that grows crops, the earth that nurtures your existence.
– Chogyam Trungpa
Want to bring about peace in oneself and in the world?
Here is what we suggest: Actually planting seeds.
Growing our own food creates a haven from the global adversities occurring and predicted for the near future. We can avoid energy issues related to transportation, refrigeration, as well as issues related to employment equity. Seeds are inexpensive so we can let go a bit on whatever economic situation we may be in and spend more time on our abundant future harvests. We can support our own families with nutritious, delicious greens and reds and stripey delights.  What we put into our bodies is who we are and if we are eating processed foods we are guaranteed additional sugars and fats.  On the other hand local produce grown nearby is an entirely different world of taste.  Carrots might even be your new candy.  When thinking of our Shambhala communities, imagine the peace, prosperity and sustainability we would be ensuring.
Besides, gardening is particularly rewarding to Shambhalians in many ways.  Cultivating living things physically connects us with primordial drala joining heaven and earth literally.  The Buddha's gesture was to actually touch the earth.  And so must we. This is an important component of creating enlightened society and of establishing and maintaining real, meaningful connection with the living, magical world of dralas.  We are opening up, breathing in and sharing the overflowing vibrancies of this world.  The natural elements help us see all truths, weather the magic or chaos of wind and rain.  The teachings of impermanence can be experienced through watching seed come to crop and continuing on to cuisine and compost.  We can also begin to remember how seasons decide the food we place in the ground and we will begin to remember the natural rhythms of our universe.
We should be self sufficient. We should create large produce gardens,
as we will have to feed many refugees. – Chogyam Trungpa
Sowing seeds is a practice of generosity, gentleness, and meditation in action for the earth, for us, for all beings both present and future.  This is the time to begin propagating your seeds. Even in Canada, spinach and lettuce has already sprouted indoors.  So grow as much food as you can and grow food with your friends, family and community.  The world of growing food is a generous one where infinite knowledge is gained and shared.  If you are not able to grow food this season, buy locally and perhaps begin preparing for next season. How about a five-year plan to sustainability starting today with sprouting seeds of compassion, literally?  We cannot recognize the teachings without actual connection to nature, to earth, to our roots.  Without the cradle of our tender earth, we cannot support and care for others.  We are absolutely interconnected.
Here are a few Resources and Links to start you on your way:
Eliot Coleman, Four-Season Harvest (book, the best gardening advice we know of.)
Barbara Kingsolver, Animal, Vegetable, Miracle, (book),
Sustainable Eating Resources: www.michaelpollan.com
Peace, Earth and Justice News: www.pej.org
Slow Food Movement: slowfood.com
Organic Volunteers: www.organicvolunteers.org
Feeding the Future: www.farmfed.com
H.H. Karmapa's Environmental Guidelines for Karma Kagyu Monasteries, Centers and
Community, click here.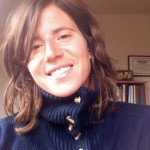 Olivia Kirby grew up in the eco-village of New York City and began engaging in earth loving action in high school and continued to run environmental organizations through college. After college she moved to Shambhala Mountain Center to work with the gardens and farm. After seeing all of the possibility there she created the ever present and changing position of Sustainability and Resource Management. Presently she apprentices at Stone Barns Farm in New York, learning how to support a hardy and bio-diverse food system for four-season growing.
Editor's note: This article is part of a trio on gardening that represent, respectively, Heaven (ground), Earth (path), and Man (fruition). The set is best read as a unified vision. David Wimberly's article (ground) can be found here, Olivia Kirby's article (path) can be found here, and Bob Cervelli's article (fruition) can be viewed here.
Post Tags:
garden
,
Protecting the Earth
,
sustainability