Wednesday
Atlantic Canada, International Programs
YOGA BODY / BUDDHA MIND Weekend yoga workshop with OM Yoga's Cyndi Lee & David Nichtern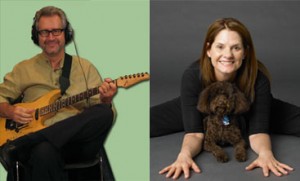 From May 8-10 in Halifax, the Shambhala Sun Foundation (together with Therapeutic Approach Yoga Studio) is pleased to present a weekend of workshops with internationally-acclaimed yoga teacher Cyndi Lee and longtime student and teacher within our Shambhala Buddhist tradition, David Nichtern.
Cyndi is founder of OM Yoga in New York and author of Yoga Body, Buddha Mind; she's a regular contributor to the Shambhala Sun, Yoga Journal, and a host of other magazines. David is Dean of Buddhist studies and practice for OM Yoga, and is a Grammy-award winning guitarist and composer (he wrote the classic "Midnight at the Oasis, and just finished an album with Christopher Guest). David and Cyndi are pleased to come to Halifax to teach "Yoga Body/ Buddha Mind"—an approach they've largely pioneered in North America that brings together the disciplines of hatha yoga with the Buddhist view and meditation. They've generously offered to donate all proceeds to the Shambhala Sun Foundation; tax receipts will be available.
Say Cyndi and David in this March, 2007 article they wrote for the Shambhala Sun (which you'll find by searching the Sun's web archive): "One of the wonderful aspects of Buddhism is that there is a whole range of meaning to the most basic teachings. The most profound instructions are often concealed in the introductory teachings. Our program on Yoga Body, Buddha Mind breaks the practice into four main sections:
* making friends with yourself (an introduction to mindfulness practice);
* dynamic equilibrium (cultivating balance in mind and body);
* obstacles as path (working with obstacles and resistance);
* opening your heart (developing kindness and compassion)
In our workshops, David presents the basic theme of each section, as well as how it applies to formal and in-the-field meditation practices. Cyndi follows this with a yoga session in which she weaves these ideas into how we work with our body, and elaborates on how to explore these principles in the movements and relationships of our daily lives."
New and experienced yoga students are welcome. For schedule and more details, visit the Shambhala Sun website, www.shambhalasun.com/events or call Debra Ross at 422-8404 x34. To register for single workshops or for the entire weekend, email Therapeutic Approach Yoga Studio at [email protected] or call 902 429-3303.
The Shambhala Sun Foundation thanks you for your support! We are pleased to present these special teachers and teachings in our local community.
Post Tags:
contemplative arts
,
International Programs
,
Shambhala Sun Foundation
,
yoga