Tuesday
Community Articles, Northeastern States
RUN for Tibet a Success!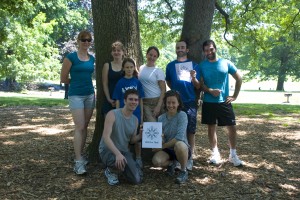 By Chris Gherardi & Lucinda Sears
RUN For Tibet Coordinators
We would like to update you all with regard to the RUN For Tibet fundraiser that took place on Sunday, May 31st. The walka-jogathon was a huge success! Due to the generous support of our donors and event participants we were able to raise $3,440 for the Konchok Foundation's Education Project in Tibet. This exceeded well our original goal of $2,000, and is a testament to what a small group of dedicated individuals can accomplish when we all work together united by a common cause.
On an especially exciting note, we were informed by the Konchok Foundation that the RUN For Tibet contribution will be doubled through a special matching grant sponsored by two Konchok Foundation donors. This large sum of money will be greatly appreciated by the Surmang community in Tibet, and will go a long way towards rebuilding the Shedra and financing the children's education program.
Doug Cullen | Garuda | 6 Miles Run/Jog/Walk
Paul Wegener | Tiger | 5 Miles Walk
Karen Yaeger | Lion | 3 Miles Run/Jog/Walk
Barb Ehlers | Garuda | 5 Miles Run/Jog/Walk
George Barberis | Tiger | 3.5 Miles Walk
Milan Loewer | Lion | 3.5 Miles Run/Jog/Walk
Krista DeNio | Garuda | 6 Miles Run/Jog/Walk
Meredith McCanse | Tiger | 3.5 Walk
Neal Buccino | Lion | 4 Miles Run/Jog/Walk
Seth Freedman | Garuda | 5 Miles Run/Jog/Walk
Clay Distler | Garuda | 5-6 Miles Run/Jog/Walk
Lucinda Sears | Garuda | 5 Miles Run/Jog/Walk
Chris Gherardi | Garuda | 5 Miles Run/Jog/Walk
The Sunday event was a fun and rewarding experience for all the participants. We had beautiful weather in Brooklyn's Prospect Park to encourage the participants along every step of the way, and everyone enjoyed the BBQ festivities at the end of their hard work.
Please join us in congratulating all the donors and participants for all their hard work and effort!
Ki Ki So So!
Post Tags:
Shambhala Triathlon
,
Tibet