Tuesday
Community Articles, World, other
Touching the Earth in Mexico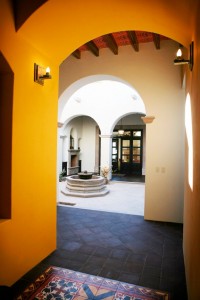 By John Perkins and Margaretta Sander
In the central mountains of  Mexico the town of San Miguel de Allende sits against the hills of the high desert plain.  A UNESCO World Heritage site, San Miguel is consistently on the Conde Nast list of top 10 cities. It is a gem of friendliness, color, history, and culture, and rich with local Dralas too. On a recent visit, Eva Wong described San Miguel as the "Gateway of Shambhala to Mexico with a strong Kasung spirit."
From it's founding in 1542 when it was a way-station on the "silver road," the wealthy population  developed a colonial architecture with Spanish, Moorish, Persian influences using adobe, stone and lime mortars. These materials and construction methods were naturally sustainable and it wasn't until the early 20th century that concrete and brick supplanted the traditional ways, bringing enormous pollution and resource consumption.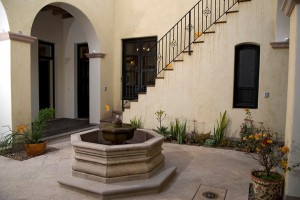 Arriving from Halifax five years ago Sangha members John Perkins and Margaretta Sander fell in love with the colonial architecture. While working as a construction manager for a local developer John met Pedro Urquiza, a local resident, Harvard-trained architect with a passion for adobe construction and traditional architecture. When an opportunity came to build a house on their own they jumped at the chance to combine their experience in historic preservation and architectural history with the sustainable design embodied in the buildings all over town using adobe from Pedro's factory.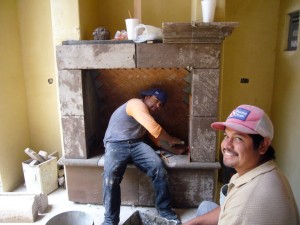 Touching the earth was literal as well as aspirational in building Casa Quemada. The house of sun-dried adobe, constructed by hand, using only hand tools, plumb lines and levels (electricity was installed after the house was completed!) demonstrated that efficient, green construction is cost and time effective. Steel and concrete, materials that consume more than 150 times the energy requires to produce than adobe, are at a minimum.
The finish plaster is lime-based, not cement, made to traditional recipes that include boiled cactus juice and natural color pigments. We used non-chemical-based products for all the floors, wood and walls such as natural chalk and clay, milk paints, linseed and tung oil sealers and beeswax polishes.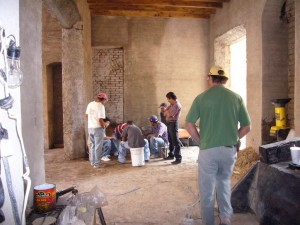 Because of it's excellent thermal properties adobe is well suited to provide cooler buildings in summer and warmer ones in winter. Adobe and lime plaster together provide allergy-free interior environments that also offer different sound qualities as well as negative ions.
The result is Casa Quemada, a reproduction of traditional 18th century San Miguel architecture with modern conveniences. Visitors remark on the "feel" of the house; but maybe it's the lungta!
"From the street, I knew it was a special house. But I had no idea of how elegant until I walked inside. Everywhere I looked, from the floors to the ceilings, I felt the serenity of the design, and the attention to detail. As I looked closer, the use of historically accurate materials deepened the sense of beauty and elegance that surrounded me."
Casa Quemada is for sale. To see more, visit http://www.dralapad.com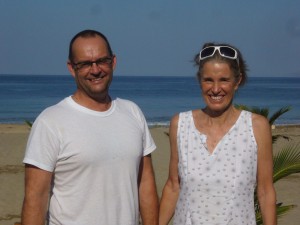 John Perkins runs Alive Design, a multi-disciplinary design and construction studio specializing in sustainable materials use and traditional constructions in San Miguel. He also works each summer restoring gold leafing on the Great Stupa of Dharmakaya and was senior conservator for Parks Canada.

Margaretta Sander teaches Iyengar Yoga and is the Director of the San Miguel Shambhala Center.
They can be reached at [email protected] or [email protected]
Post Tags:
Mexico
,
Touching the Earth