Sunday
Sakyong and Family
To Help Others Makes Me Happy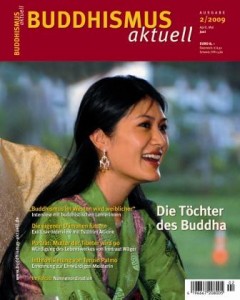 An interview with Khandro Tseyang Palmo by Metha Martens for Buddhismus Aktuell, a German magazine
The wedding of the dream couple Khandro Tseyang and Sakyong Mipham Rinpoche, son of Chögyam Trungpa Rinpoche is still vividly alive in many Buddhist's memory. Metha Martens had a conversation with the Tibetan Princess about her upbringing in a highly regarded Buddhist family and about the tasks of the Sakyong Wangmo in the Shambhala tradition.
Klicken Sie hier, um den Artikel auf deutsch zu lesen.
Khandro Tseyang, you are from a very old Tibetan family which after fleeing from Tibet was able to create a new home for many exiled Tibetans in South India and Nepal. Your father is regarded as the living regent of King Gesar, enlightened warrior and king of Tibet. How was your upbringing?
I was born in Orissa as the youngest daughter of His Eminence Terton Namkha Drimed Rinpoche, the head of the Ripa family, and his wife Sangyum Chime Dolkar. My father is the sixth throne holder of the Ripa family lineage and the Ripa monasteries. When he was twelve years old, he had his first visions of Padmasambhava and King Gesar. Since then he has revealed many termas (hidden treasures), which later were collected under the name "The Treasure of the Enlightened Intention of the Wish Fulfilling Jewel," a new cylce of the profound path. The teachings of this path give the practitioner power, wisdom, and knowledge which help to dissolve the fears and suffering of present-day living. My father belongs to the living tertons (terma discoverers) of our time, and he is highly regarded by many as the living representative of Padmasambhava and King Gesar — including by His Holiness the Dalai Lama and His Holiness Dilgo Khyentse Rinpoche. The Ripa lineage is spiritually a very powerful transmission which combines the Nyingma and Kagyu lineages of Tibetan Buddhism.
My family settled after its escape from Tibet in the Indian province of Orissa. Now there are 5,000 exiled Tibetans living in this area and the new Ripa lineage monastery was founded there. I have two brothers, Gyetral Jigme Rinpoche — who is the spiritual heir of the Ripa Döndduk lineage — and Luntrul Tulku Rinpoche, as well as three sisters, Semo Sonam, Semo Pede, and Semo Palmo.
Buddhism teaches us to appreciate the preciousness of human birth. I am very grateful for it and I see it as a great fortune to have been brought up in a Buddhist family where practice was part of everyday life. Very early on, my grandmother told me to read Dharma texts. She also taught me Tibetan calligraphy. My grandmother, Mayum Palden Tsomo, was an advanced Dzogchen practitioner and the granddaughter of the yogini Drubwand Shakya Shri.
Since my early childhood, the women in my family were my role models. My mother is regarded as an emanation of Red Tara and her wisdom, friendliness and compassion for others have inspired me very much. In particular, the never-tiring generosity of my grandmother taught me to discover the magic of genuine bodhisattva activity. When I was younger I was always wondering why my grandmother never got tired of taking care of others. But then I realized that she received a lot of satisfaction and happiness in return. I understood that it makes one happy to help others. My grandmother taught me to help out without expectations. Then one receives something very precious in return.
Khandro-la, what kind of education did you receive?
When I was nine years old I started school together with my sisters at an English school in Darjeeling. During the day I went to school and in the evenings I studied Tibetan texts with my grandmother. My parents valued keeping a balance of modern education and the preservation of the Tibetan tradition in my education. This is the reason why I was educated in the tradition of Gesar of Ling dances with the Lingdro dance ensemble which my father founded. Part of my spiritual education was the completion of the Ripa ngöndro as well as a multitude of abishekas. I am fluent in Tibetan, English, Hindi, Nepalese, and Dzongka, the official language of Bhutan.
I practice every morning. If I have only a little time I do Tara or Guru Rinpoche practice and if my time allows it I do Tara, Yeshe Tsogyal, Guru Rinpoche and Gesar practices. Even as a child, I learned that it doesn't matter which practice you are doing, the most important thing is to apply it. Otherwise all of that does not make sense and it will not help. You will listen to the teachings and you will practice, but if you don't join your practice with your daily life, then it will not bring any benefit. If you try to keep a practice mind in your daily activities and, in particular, in situations which are challenging, than that will make a big difference and it will be precious.
Which responsibilities did you have as a grown up within your family?
Among other things, I took care of the well-being of the monks in Rigon Tashi Choeling, a monastery which my father founded in Pharping, Nepal. I am continuing with that responsibility. Many of the monks there are still very young and they need help in order to live a healthy life and to develop spiritually. My family founded the Ripa Lhadrang foundation in order to support them, because almost all monks are without family support. At this time, there are 97 young monks living there and most of them need a sponsor. I am trying to find sponsors to support young monks with their material needs. This keeps the tradition alive which has been practiced since the time of the Buddha. The generosity of those who sponsor contributes to the study and practice of the monks and keeps the dharma alive. And at the same time, as Buddhists say, those who give money accumulate merit. During my father's travels into the West, I have been his translator. I have also helped my brother Gyetral Jigme Rinpoche, who is the second in command of the transmission lineage of the Ripa monasteries, with his care and leadership of our Tibetan communities in India and Nepal. He has founded several humanitarian aid projects, including the Phunsto Ling drinking water project and the Tibetan student Sponsorship project. Because of these projects, the well being of the Tibetan refugee camps as well as the neighboring Indian villages have improved.
My brother is a socially engaged Buddhist. I have learned a lot during my travels in Western countries. Jigme Rinpoche has founded organizations in the West called Padma Ling and Ripa. He is able to transmit the dharma with openness and humor and his teachings contain the living knowledge of our time. He succeeds in combining the timeless Buddhist wisdom with the understanding of the modern world — from him and from my father I have gotten to know the people who practice in the West and to understanding their way of thinking.
As a member of the Lingdro Dance Ensemble, you met Sakyong Mipham Rinpoche, the son of Chögyam Trungpa Rinpoche. How did that happen?
In 2005, His Holiness Penor Rinpoche invited us to Namdroling Monastery in Mysore, South India to perform the complete cycle of the Gesar dances on the third day of the Tibetan New Year celebration. But we were not able to come on that day, because we had to perform in Orissa. So we arrived later. My father's brother, Dungsay Karme Shedrup, was the leader of our dance group. At that time, there were five members of my family present. The performances last two evenings. During that time Sakyong Mipham was receiving teaching from Penor Rinpoche and attended the second evening as his teacher's guest. When we heard that the son of Trungpa Rinpoche was in the audience, we became very excited because my father and Trungpa Rinpoche had shared a close connection to Gesar of Ling in Tibet. I had previously heard that Sakyong Mipham was the tulku of Ju Mipham Rinpoche (Mipham the Great), but I did not know him personally. One day after the performance, we received, we received a very formal invitation to have tea which was completely in the style of the Tibetan tradition. As soon as I saw Rinpoche I felt a very strong connection to him. He was not only good looking as a man, but I was especially impressed by his presence and I felt total peacefulness, relaxation, and a deep tranquility around him. It was a wonderful meeting. We both felt very attracted to each other and we decided to stay in telephone contact.
After that you married Sakyong Mipham Rinpoche?
Yes, in April, Rinpoche officially asked for my hand. We met in the United States, in the residence of my sister Semo Palmo, who lives there with her husband Alan Goldstein. After that we had altogether three wedding celebrations. One legal one in Boulder, Colorado, the American residence of Sakyong Mipham, a further ceremony with the Shambhala community in Halifax, Canada, and finally in my Tibetan home of Orissa. Both sanghas, the Shambhala sangha and the Ripa sangha, wanted to share in our joy of getting married and for that reason we had three ceremonies. Each one was an experience in itself.
What is your everyday life like as a married couple?
We enjoy the time that we can spend together just like every other normal couple. We love to simply be together. Rinpoche has many teaching responsibilities. If possible, I accompany him and in this way, I have gotten to know and I am still getting to know the Shambhala community. Rinpoche appreciates it a lot that he has a companion in me who grew up in the dharma, and with whom he can talk about everything and who can support him in his activities with his students. I love to just talk with him, take walks with him, to exercise with him or listen to music with him. Music plays a big part of our lives and I have also discovered that Rinpoche loves to cook for me. He cooks very well.
It feels as if we have always known each other. The paths of our two families have crossed again and again. We really enjoy discovering that together. My brother Jigme Rinpoche and Sakyong Mipham Rinpoche have become good friends. My father Namka Drimed Rinpoche is teaching on Gesar of Ling within the Shambhala mandala.
In August 2008, you were enthroned as Sakyong Wangmo by His Holiness Penor Rinpoche. What does this title mean and which responsibilities are connected with it?
In Tibet we have different traditions, some are monastic and others are family lines. The Shambhala tradition is a family tradition, and the title Sakyong and the feminine form of Sakyong Wangmo are connected with that kind of lineage. The Shambhala teachings have basic goodness as their foundation, which is inherent in every human being as their birth right. According to the Shambhala view, the Sakyong and Sakyong Wangmo are examples of these awakened qualities which every human being can discover. Within the context of open space, out of which everything arises, the Sakyong and Sakyong Wangmo embody the male and female energies. Every human being carries both of these energies within them. In the Shambhala teachings, the male energy is also called the father lineage and is described as fearless. The feminine, mother lineage is described as gentle and peaceful. Directly translated, the title of Sakyong Wangmo means "earth protectress" or "powerful lady." For me personally, this means that I try to encourage justice through clear communication and patience and that I try to create compassionate and peaceful human interactions. Part of this is for me to make sure that Sakyong Mipham Rinpoche stays healthy so that he can continue to teach for a long time. As Sakyong Wangmo, I am the holder of a family lineage which goes back all the way to Gesar of Ling. Belonging to a family tradition also means that we will have children.
Khandro-la, thank you very much for your time and for this conversation.
______________________________
Metha Martens is a student of Sakyong Mipham Rinpoche and met Khandro Tseyang in 2007. She spent some time in Sakyong Mipham's and Khandro-la's household in Cologne and France. She conducted the interview with Khandro Tseyang Palmo in November 2008 for Buddhism Aktuell (Buddhism Today).
Post Tags:
Arising from Space
,
Buddhismus Aktuell
,
feminine principle
,
Khandro Tseyang