Thursday
Dharma Teachings
Celebrating Sophistication
By Sangyum Agness Au
I write this from San Francisco, as a grand gathering of family and friends of the Au Clan draws to a close. Five generations have come together to celebrate my father's 90th birthday, from his 96 and 93 year old Canadian Chinese sisters to his 14 month-old great-great grand niece. It has been a joyful occasion, full of heart connections, the poignancy of reunion, and the endless delicious feasts for which our clan is well known. To complete the opera, there was also the requisite tension and high drama during the planning and preparation of the week-long events.
Before the final festivities began, in the quiet of the restaurant banquet room, I finished a five-foot tall ikebana arrangement with five varieties of potted orchids. My son and I set out large trays of flat Chinese 'donut' peaches, which symbolize longevity. In the creation of these offerings, I reflected on the power of the mother lineage to bind clans and societies together. There is a sophistication in the continuity of tradition, developed from centuries of nurturance and celebration.
In 1976, when I met the Druk Sakyong, meditation was not particularly interesting to me. As a young fashion designer living in Manhattan, I was passionate about all things sophisticated. To me, sophistication meant foreign and artistic. So I was intrigued and challenged by this brilliant person, with such great intelligence, power and, of course — sophistication. Through the years, I've come to appreciate the profundity of this 'hook.'
When I first received the Court Vision and Practice manual, I was delighted to find a section titled 'Sophistication' in the Sakyong Wangmo chapter. Instinctively, I knew the word wouldn't have the same meaning as it did in, say, Vogue magazine, but it was relevant enough to keep me hooked.
The Druk Sakyong certainly covers the best of society's conventional understanding of sophistication when he says,
With the Sakyong Wangmo's example before them, the subjects will begin to develop a constantly cheerful state of mind. They will learn to appreciate music and the fine arts, the social graces, good clothing, good food, and so on. Without being extravagant, the subjects will be able to appreciate these things with taste and a sense of celebration.
If we go deeper and ponder the state of mind beneath the expression of a warrior's sophistication, we find a vision that naturally conveys sacred outlook. In the context of visualization practice, court or mandala principle becomes a metaphor of the highly refined sophistication of heaven, resplendent with crystal palaces and plenty of gold. The Kalapa Court represents this principle on earth as inspiration for our individual homes and dharma centers.
The Druk Sakyong gave the opening description of 'sophistication' a real twist when — in standard Mukpo tongue — he stated that it is,
…a genuine lack of territoriality and neurotic squabbling. Thus it is the role of the Sakyong Wangmo to transcend aggression in the kingdom – any aggression, from individual rivalry to crime.
Several years ago, I served on a plenary at a major women's 3-yana Buddhist conference, and was asked a rather rude question from the audience, via the moderator. The question posed was, "How can you reconcile a Buddhist life with that of a fashion designer, when monastics are wearing robes as a way to develop non-attachment?" It was asked anonymously, but was memorable for its narrow view of Buddhism and lack of sophistication in the limited identification with one form, and one form only. The irony in the question is that it is not fundamentalism in the buddhadharma that draws western students to it, but the true sophistication of its wisdom and practices.
Some people seem to distrust the idea of sophistication and have a hard time reconciling it with a spiritual path. They see it as a samsaric trap — a superficial, attitudinal justification for materialism and elitism. Connecting it to its root word 'sophistry', they give examples of superficial, puffed up behaviors that seek to intimidate others with knowledge, expertise, or style.
This is a most unfortunate misunderstanding, as there has been true sophistication ever since there were 'primitive' societies. They gained this sophistication through their connection to the strength, power, and depth of reality.
A number of the Druk Sakyong's teachings emphasize connecting to the sacredness of reality through the sense perceptions. He taught us appropriate practices to awaken our enjoyment, appreciation, and union with the world through the senses. At the same time, we received guidelines and warnings for the proper disciplines necessary for one's engagement with worldly pleasures. In addition, he taught that warriors should remain up-to-date with science, technology, medicine, business, and so forth — to stay connected and have currency in the society in which we live. It is an element of the protection principle to 'be in fashion.'
Over the years, I've come to see sophistication as the refinement and deepening of any human endeavor, practice, or interest. Whether we're talking about cuisine, politics, cultural practices, war, spirituality, design, craft, humor, marketing, scholarship, management, arts and letters, governance, or relationships — this elegance is born of curiosity, dedication, practice, and the ability to let go of achievement. True sophistication is a powerful expression of the subtleties of one's art or field of interest.
Most importantly, our discipline is to cultivate sophistication of the mind, which overcomes naivety and poverty mentality to develop a sense of refinement and non-attachment. This experience creates openness, hospitality, compassion, and love for the phenomenal world.
As we progress on the noble path, it becomes vital that our sophistication and understanding of the dharma continues to increase, in order to cut through the ever thinner and thinner veils of ego. This will bring fearlessness and a sense of appreciation that cultivates the equanimity of one taste.
________________________________________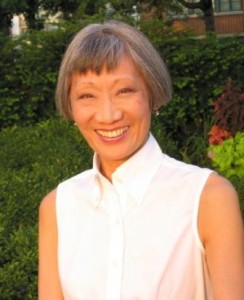 Agness Au is a Sangyum, a lifelong designation as a personal representative of the Druk Sakyong. Her Sangyum name is Drukmo Serri, Dragon Lady Gold Mountain. She is a senior Shambhala Training and Warrior Assembly director, former NYC Shambhala Training resident director, current Chair of the Shambhala Commission on the Status of Women and Feminine Principle and a member of the Sakyong's Council. In recent years, Agness has created a curriculum on the inseparable union of the feminine and masculine principles and teaches workshops internationally. She is a Somu (First rank) instructor in the Sogetsu School of Ikebana and has taught and demonstrated for over 20 years. Agness is retired from a 25-year career in the fashion industry as a design director, cataloger, and business owner. Her businesses were recognized in the industry for market leading innovation and excellence in the practice of Total Quality Management. Agness is happily married and the mother of two teenaged sons. They live in NYC.
Post Tags:
Arising from Space
,
feminine principle
,
Sakyong Wangmo
,
sophistication