Wednesday
Community Articles, International Programs
A Ratio of One-to-One Fun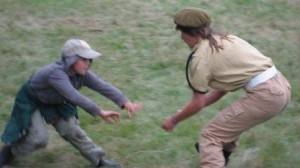 Does summer and Sun Camp feel like leaves of memory, falling off the trees? To revive the fun, here's a recollection of what happened, what didn't happen, and what just was.
By Ben Williams
Another year marches by at the Shambhala Sun Summer Camp where 31 kids aged 10 to 16 created their own enlightened society for a week on a field in Tatamagouche, Nova Scotia. The camp was headed for the second year by Camp Commander Alexis Shotwell and 16 other staff members, four of whom were staffing for the first time and one who had never been to camp before. While last year had been dubbed "rain camp" by many for its nearly week long spell of cloudy, wet weather, this year the sun returned to Sun Camp, with one drizzly day interrupting an otherwise picturesque, if hot, stretch at the grounds.
The size of the camp turned out to be a glorious benefit for everyone involved. With only 16 participants in the Command Cadet Workshop (cadets), the staff joked at one point about being probably the only camp in the country with a one to one staff to camper ratio. The CCW program, for campers aged 13-16 takes place in the three days prior to the arrival of the other campers. Those attending take leadership roles throughout the rest of camp.
"Because Camp was so very small we worried that everything would be too teeny and boring, but actually it was tremendous," said Camp Commander Alexis Shotwell.
There was remarkably good energy between the younger and older participants."
When the 15 campers did arrive they had the support of the 16 cadets and the staff. That tight-knit connection is one of the things that made this year's camp unique. There was ample opportunity in that space to explore dignity, the theme of this year's camp.
"[Camp this year was] different from any other year I have attended. The dynamic between the campers, the cadets, and the staff was wonderfully poetic," said Catherine Woodard, first year staff member. "I feel this year's camp sincerely embodied this year's theme of dignity. There was a certain kind of respect and careful attention paid to every person and detail about the camp that was unlike any other year at the DDL Sun Camp."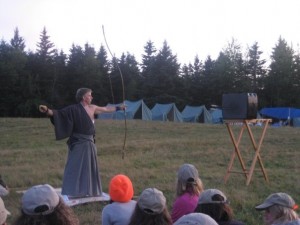 The camp had all its usual staples with a Wednesday night talk given by Sam West, a student of Shibata Sensei, who returned Kyudo to Sun Camp with a beautiful demonstration. His talk and demonstration painted an exquisite portrait of this year's theme. Mr. West also expressed the hope that Kyudo could again become a regular part of camp, and hope echoed by many.
Thursday night skit/talent night went without a hitch, excellently MCed by Gordon Shotwell. The makeshift lighting, fashioned from Coleman lanterns and metal bowls illuminated an impressive number of skits ranging from knock-knock jokes to fitness programs.
The skirmish was held on the hottest day of the camp, breaking 35 degrees Celsius (90 degrees Fahrenheit) but mandatory water breaks insured everybody lasted the duration.
For anyone who has never been to a skirmish, it is an exquisite game of capture the flag, with occasionally changing rules, that uses and builds upon all the previous camp experience. You must work with your teammates, take direction, learn to lead, and have fun. The long time Sun Camp slogan "If you lose your mind come back" is the epitome of skirmish: everyone loses their mind at some point, and everyone comes back at the end.
This camp was also the first since the new road has been created. From the road all the way in to camp has been replaced with new gravel. This change is in part due to problems last year, when there was too much water for trucks to cross the bridge in to camp. The road also paves the way for work on the proposed kitchen to begin.
Towards the end of the camp everyone gets a little wistful, and the staff heard a few iterations of, "this was the best camp ever." While statements like that always have to be taken with a grain of salt, it was encouraging to know that camp was by-and-large a success.
"What made this year of camp really good was that I felt like we were all friends and could all be ourselves around each other," said Kuan-Yin Peisinger, a cadet at camp. "Also we did more activities then just doing drill which were fun, as well as helped our gangs/squads bond and work together, and helped the cadets learn to be leaders as well as listeners."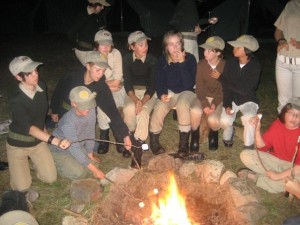 Part of what Ms. Peisinger was referring to was the large number of games played by the whole camp crafted from a variety of different sources, not the least of which, the minds of Marta Vigerstad and Gordon Shotwell. Everyone was highly involved in a variety of different games from simple to complex. Some games were more simply "get to know you," with others requiring more intricate strategy and cooperation.
"This year felt a little different then the others," said Scott Campbell, cadet at the camp. "Everyone was great, people were welcoming to each other and open to help. It seemed that no one brought their ego to camp and everyone was just comfortable."
In talking with a number of the staff and campers it is obvious that this year was outstanding in terms of the connection between the CCW and the campers and the entire camp as a whole. A few cadets mentioned the lack of any bullying at camp that can sometimes arise within a large group of children with varying age. The senior campers seemed to take their responsibility very seriously, and moreover, treated their peers and those in their care with the compassion of family members.
Sun Camp is never the same year to year, and this year provided its own challenges and rewards. But, regardless of your role at camp, staff, cadet, camper, you always learn something.
The four first-year staff all had the very unique experience of seeing from the other side of the fence. There were a number of staff in new roles this year, and others fine tuning the roles they performed last year.
Building that kind of society just lends it self to self-exploration and forging of the best qualities of humanity, kindness, gentleness, and genuine leadership.
As usual, words fail to embody the experience of Sun Camp, and even the most detailed description falls short of recreating the feeling. Everyone who has been to Sun Camp probably needs more than one hand to count the number of times their descriptions have left friends more puzzled than before; "So all you do is sit around and march?" But as Mr. Campbell most eloquently put it, Sun Camp is about learning to "just be" and that is something that has tremendous value despite its intangibility.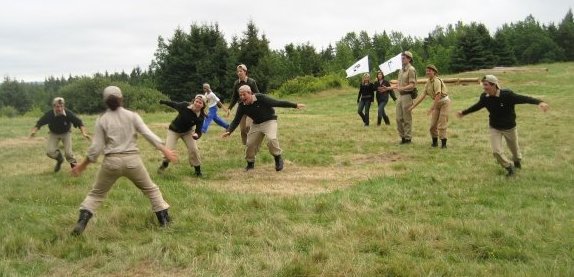 Post Tags:
children and families
,
Sun Camp