Friday
Dharma Teachings, Mandala Projects
Weekly Videodhara
Infusing the Presence of Chogyam Trungpa into Your Curriculum
Complied by Jennifer Holder, with Carolyn Rose Gimian, Gordon Kidd, and Denny Blouin contributing.
The Videodhara
By Denny Blouin

Forget the mahasiddha for the west business:
Just CTR in b & w and color, speaking.
In your face, your brain, your blood
Mainline direct, subtle, insulting, seductive.
Never the same way twice: white hi-tops, ascots,
Suspenders, big polka dot shirts, suits.
Cheek licking, drinking in his listeners,
Tigerish smile, spearwords, but
Not so much actually the words as
The gesture, the force of THAT among us plus
The voices of old friends suddenly present again:
The inconceivable utter luck
Of being there then and
NOW
Have you ever found yourself wishing you could soak in the teachings, presence, and atmosphere of the Vajradhara, Chogyam Trungpa Rinpoche? We all have – whether we were actually there back in the day, or have only seen him in photos and our dreams. When Chogyam Trungpa taught, he wasn't just some guy up on a stage talking – he was actually being what he was talking about. That's the power of seeing him – we get the "be" quality. And we all want to "be" with him.
Experiencing Chogyam Trungpa through both sound and sight makes his presence immediate. There are aspects of transmission in whatever he does — not just in what he says and how he says it – he also transmits his wisdom through gesture and physical expression. In the videos, we see him move his hands, twirl a vajra, curl his lips, or raise his eyebrows. All of those things are expressions of his awareness.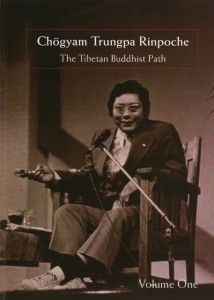 The Video Experience
Since 2004, Kalapa Recordings has worked hard to remaster DVDs of Chogyam Trungpa Rinpoche teaching. For nearly three years, the Halifax Shambhala Center has been showing these videos to large and rapt audiences.
The audience for the video series ranges from 25 to 150 people. People ask why the class is so successful, and while the large population of senior students in Halifax is undoubtedly a factor, many newer students also attend. Many people come who have never seen Chogyam Trungpa before, though they have heard him speak or read his books. Most often, they have joined our sangha based solely on that. But the power of seeing him strengthens everyone's sense of what and who we are.
We Can Never Get Enough
Chogyam Trungpa has always scrambled everybody's expectations – then and now. He uses language in a muscular way and changes words, never saying the same thing twice. No one is ever quite sure what he means, which leaves us with a transformative quality of befuddlement. That's why its so powerful to see Chogyam Trungpa teach over and over again – even if you were at the teaching in person — because it is like receiving it for the first time, getting it fresh. There is so much we all missed when we were younger, and the path is never-ending, always evolving and expanding as we do. Revisiting the teachings never gets old.
Format for Your Own Videodhara Class
At the video class in Halifax, we charge $5 per person, per night, and we never turn anyone away. The format is consistent: we begin at 7 pm every Monday, with 20 minutes of meditation. Then we watch a tape, have a workshop, or another presentation. We always make time for discussion groups — Rinpoche was so much fun, and that bleeds into the discussion.
Suggested Curriculum
The first session of the Monday Night Class presented The Tibetan Buddhist Path, from Naropa in 1974. The class ran fourteen weeks, and an average of 90 people attended. Fall 2007, we presented DVDs of Meditation: The Way of the Buddha, also from the first summer of Naropa.
Winter 2008, the MNC offered a course for Vajrayana students. Tantrikas gathered to contemplate ati teachings of the Vidyadhara. We practiced, read material aloud, and discussed whatever spontaneous insights arose. More than 100 attended regularly. Winter 2009, tantrikas gathered to watch DVDs of the EVAM seminar, which is published in Glimpses of Space. That spring we presented DVDs for Journey without Goal, a thirteen talk seminar, Naropa, 1974.
Fall 2008, we tried a new format to accompany DVDS of Visual Dharma, four talks from 1978. The Vidyadhara demonstrated calligraphy, flower arranging and object arrangement, read poetry and showed slides on the DVDs. We alternated DVDs with workshops by senior dharma artists. Spring 2009, Andy and Wendy Karr presented the color photography of Trungpa Rinpoche, having recently completed the digital remastering of Rinpoche's slides. The slideshows were powerful and very popular.
Currently, the MNC is viewing DVDs from Skillful Means and Wisdom, California, 1976. In November, we begin our first ever book class. Readings and discussion from The Sanity We Are Born With: A Buddhist Approach to Psychology will be accompanied by presentations by health professionals in our community.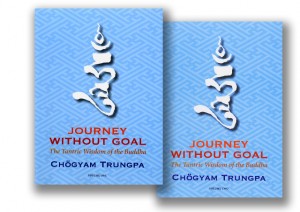 One purpose of the Monday Night Class is to "workshop" courses and preview DVDs being digitally remastered. Now available on the new Shambhala Media website: The Tibetan Buddhist Path, Meditation: The Way of the Buddha, Journey without Goal, and EVAM. Coming soon: Visual Dharma and Skillful Means and Wisdom.
The Monday Night Class is jointly sponsored by the Halifax Shambhala Center, the Shambhala Archives, and the Chogyam Trungpa Legacy Project. For information, please contact [email protected]
Post Tags:
Chogyam Trungpa
,
Halifax
,
Shambhala Media