Saturday
Sakyong and Family
Shambhala Households: Transcript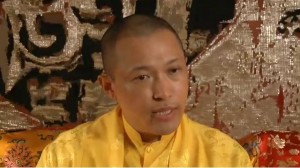 Here is the transcript of a discussion about Shambhala Households that was released early this month.
President Richard Reoch: Dear friends, I'm speaking to you from the Kalapa Court here in Halifax. It is just days after the 4th Shambhala Congress and, in fact, it is the Sakyong's birthday. And it was today that he called me to the Court to say that he had a message for the entire Shambhala leadership, a message which is destined to go to all of Shambhala.
Your Majesty, as you know, the theme of the 4th Shambhala Congress was "exploring community." What do you see as the next steps in developing Shambhala society?
Sakyong Mipham Rinpoche: Well, first of all I am very pleased with how the Congress went and the incredible clarifying, bring together all these principles and aspiration that happened. So I'm extremely, delighted by the Congress. Before I go to retreat, it seems like an auspicious and good time in terms of our next phase. Over the years I feel like there's been an element missing. Initially I did work on the Dorje Kasung, its strength and structure, and then obviously the acharyas—I have to say they're all working beautifully and that group is very strong—and then with the leadership and also government coming together. I feel like the next principle is the notion of Shambhala household, which is connected with the principle of Kalapa Court in the center of Shambhala.
If you look at the traditional thangka of Shambhala, the Rigden in the middle is usually painted as sitting on an eight-petal lotus, and around it there are many households going on. So Shambhala historically is connected with households, with many millions of households taking place in Shambhala.
The Kalapa Court is the central household where the Sakyong and Sakyong Wangmo live. That's a principle of family as a unit, as opposed to an individual. I feel like that's something that we need to aspire to and develop further. So I feel like the next phase is really this notion of Shambhala household,
and how all of our community can essentially be household. People could choose to say, "I would like to live as a Shambhala householder," and they would participate that way. Maybe I would send a letter or some kind acknowledgement that their home is an official Shambhala household and that
they wish to live their life on certain principles that correlate with the Court principle, which really has to do with how we run our houses and how we run our lives. The Shambhala centres have been wonderful, but there has sometimes been a stress or disconnect: we live our lives, and then we sometimes go to the Shambhala Centre and have activities. I think that for us to have a social
transformation, we need to bring it down to our home level.
Click here to read the entire transcript.
Click here to view the original video.
Post Tags:
Sakyong Mipham
,
Shambhala Households