Tuesday
International Programs
Positive Culture Shock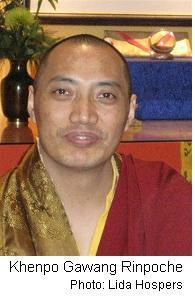 Franz Luke reports on the annual Mipham Academy Europe from Marburg, Germany
"The whole seminar was like one big positive culture shock", commented one new participant from the Netherlands. This experience of the third Miphan Academy in Europe by Khenpo Gawang was a common one. It left students with questions like "Why do we need Tibetans to tell us these beautiful teachings," "Why is Khenpo Gawang Rinpoche so good?" and "Why is Marburg such a nice city and I have never heard about it before?"
The 2010 Mipham Academy Europe on "The Gateway to Knowledge," or Khenjug by Mipham the Great, to which Khenpo Gawang offered oral commentary, was again an event of great intensity, inquisitiveness, exertion and learning. It was wrapped in mutual appreciation, friendliness, and cheerful comradeship among the almost thirty participants. All represented various stages of experience in dharma, life, and age. When he heard that the average age of new sangha members is 47, someone of about 30 said, "It feels like we all have the same age."
The topic of the academy was mainly the four truths and the two truths. One might wonder that the four noble truths are the topic of the third seminar, since they were the first teaching of the Buddha. Acharya Fenja Heupers explained by saying that, "In his treatise Mipham the Great follows the sequence of the Abhidharma tradition. Traditionally the explanations of skandhas, ayatanas and dhatus are considered an in-depth explanation of suffering."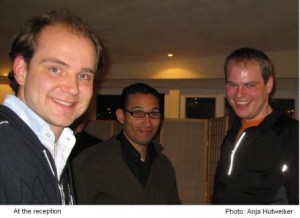 The Khenjug starts with the skandhas and elements, the consciousnesses, valid cognition, the samskaras and so on, discussing them the light of the hinayana and mahayana thought. Also bardo was covered to a certain extent last year.
Often these kind of teachings are considered as heavy, dry stuff useful only for scholarly practitioners. But due to the excellent teaching skills of Khenpo Gawang and the very helpful collaboration of the translator Christoph Klonk, the overall atmosphere of the seminar was cheerful and light. Of course sometimes it was quite demanding to follow, especially when the teachings delved into many categories that sometimes seem far away from personal experience. However many found the intense study and restudy of the material really enriching for practice. Personally, I now feel I know better what is actually referred to in the different sadhanas. Also in everyday life I find myself better equipped to deal with my experiences in the light of dharma.
Gregory Bronswinkel from the Netherlands put his feelings into these words: "Even though at times I was not excited to go to Mipham Academy this year, I had great trust it would be beyond any expectations I might have. And indeed, Khenpo Gawang's, love, kindness, vast knowledge and generosity in working with us are invaluable. It's my deepest wish that Khenpo Gawang will continue to teach the Mipham Academy in Europe for many years to come and that may others have the good fortune to practice and study with him."
We can well say that the Mipham Academy Europe is so far a success and that the study of the Khenjug — which will be finished next year — lays a solid ground for a deeper understanding of our mind by continually mixing it with dharma.
Recently, Candia Ludy, the secretary of Khenpo Gawang, wrote in an e-mail that even from Memphis (where he is currently staying) that Khenpo Gawang "often says that Marburg Mipham Academy is the way to do a program." This is very encouraging for us and we will certainly energetically continue the Mipham Academy in Europe. Hopefully we will be able to cover many more texts by Mipham the Great to help the Sakyong to keep alive and transmit this part of his vast dharma heritage.
Post Tags:
Mipham Academy
,
Shambhala Europe