Monday
Community Articles, Southern States
Synchronizing Body, Heart & Mind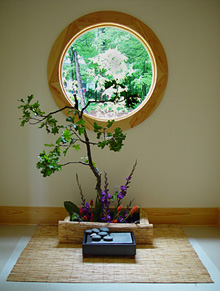 By Aaron Manier
During the final days of the don season, a determined group of warriors assembled at the Atlanta Shambhala Center to participate in a week of intensive exploration of the body, heart, and mind. This weekthun experience was led by Hope Martin, a skilled teacher of Alexander technique and the Shambhala tradition.
Down Right, Up Right
Hope has been developing a technique which she calls, "Down Right, Up Right." This technique integrates the alignment principles of the Alexander technique with intense exploration of the body/mind relationship while nurturing whatever arises in the cradle of loving kindness. Through this practice, one becomes more and more acutely aware of the various holding patterns and tensions that predominate our general relationship to our body.
As a participant of the weekthun, I connected deeply with the relationship between the holding patterns of my body and my state of mind. Through intensive meditation practice, paired with Hope's inspired teachings, I was able to observe the subtleties of these holding patterns: how they interconnect throughout my whole being and how they are part of ego's mechanism to shield me from the raw, rugged, and tender aspects of my being.
Throughout the week, Hope guided participants through practices and contemplations that led us to a more direct relationship with the body and a more open appreciation of our various holding patterns.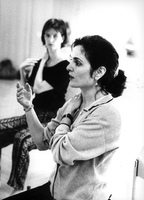 Relax into the Earth
Hope's teaching is rooted in the Alexander technique, developed to promote stable alignment through the natural structure of the skeletal system. This alignment allows the practitioner to relax into the earth — into the natural, aligned, responsive, and spacious aspects of our body and mind that are foundational to our experience. Through this alignment, our tendency to solidify our experience through tension and mental projection is highlighted.
As a Shambhala practitioner, I have found that my own patterns of muscular tension have created a subtle sense of puffing up that is held throughout the body. Hope's teachings have allowed me to touch a more authentic and aligned way to rest in the world and to directly relate to these habitual patterns. What I noticed was through exertion in relating with the body, these patterns became clearer and clearer and started to unwind.
The gradual unwinding of patterns of tension and constriction was palpable throughout the group as well. The group's warmth, confidence, and appreciation of the teacher, the teachings, and each other expanded as the participants began to collectively unwind their patterns.
During group discussion, the assembled practitioners supported each other with a sense of humor, honesty, and a willingness to not get it right — or as Hope put it, "end-gaining." By the concluding feast of the week, there was a radiant, trusting, and vibrant quality to the entire group that really tugged on my soft spot.
As the week went on, various difficult experiences, ranging from physical to mental, emerged. Hope's skillful integration of loving kindness towards the emergence of these experiences provided me with surprising information. When you acknowledge these experiences and hold them with a sense of appreciation, they soften and allow more space, both in body and mind.
Through these explorations and experiences, I had the precious opportunity to explore — throughout my whole being — fearlessness, gentleness, and the experience of the genuine heart of sadness. My relationship to my body, heart, and mind has been deeply changed by this experience, allowing me to soften in surprising, sometimes frightening, but vastly profound ways.
The Atlanta sangha deserves tremendous credit for investing in Hope's visit. This weekthun will certainly have a lasting impact on the energy of the center. For any warrior on the path, seek out the profound and brilliant teachings of Hope Martin and experience for yourself the vast transformative ground of relating to your body in this way.
Visit http://www.hopemartinstudio.com/ to learn more.
Post Tags:
alexander technique
,
body
,
Hope Martin
,
weekthun
,
Weekthun Body Hope Martin