Tuesday
Community Articles
Taste Casa Werma
Celebrating Casa Werma's 30th Anniversary! In the gardens of Casa Werma in 1980 the Druk Sakyong, Chogyam Trungpa Rinpoche composed the Werma Sadhana, an advanced Shambhala practice. Now Casa Werma operates as a retreat center and bed & breakfast. Gerard Poortinga shares his experience of a Werma intensive at Casa Werma in March, led by Acharya Judith Simmer-Brown.
By Gerard Poortinga
Hundreds of roosters proclaim the approaching dawn. Dogs erupt in a barking chorus, filling the air until their song is finished. A few more yap before all settle down. Following a silent pause, a lone donkey brays. Heavy trucks roar in darkness towards the market and grind up cobblestone streets.
Primitive church bells clank in turn for the drowsy to awaken. Long moments of quiet are cut by a train's long loud whistle. Surrounded by birdsong, a conch sounds. Dawn breaks at Casa Werma.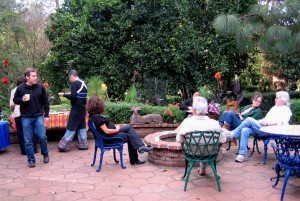 At Casa Werma, it's easy to rest in the magic of daily occurrence–to soak in the dignity of goodness within its walls and on the surrounding plazas. Although attending one program will likely add to appetite for more, one taste of Casa Werma is a significant dose.
Casa Werma is lush. The foliage is beautiful, bright and soft, simply elegant. A red clay brick wall encloses its living spaces and large gardens and then slowly crumbles back to earth. The weathered entrance door is modest and friendly.
The main casa, or house, accommodated a recent Werma intensive in March. With one group sitting in a patio enclosure, all 25 participants just fit into the bright shrine room. The generous patio expands into abundant gardens for interviews, conversation, or solitude.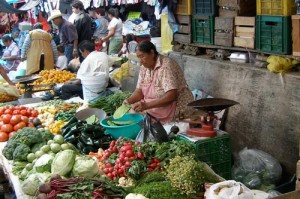 During the program, Acharya Judith Simmer-Brown offered insight and guidance, assisted by her husband Richard Brown. Being present to receive such teachings, I savored experiencing the gentle atmosphere, refreshing discussion, and genuine joy resulting from discipline and generosity.
At Casa Werma, we enjoyed two meals of local cuisine daily–delicious fresh food! Dinner was open for sampling the dozens of fine local restaurants and scores of market stands, only a block away in the lively marketplace. The offerings included tree-ripened papaya, juicy pineapple slices, amazing soups, varieties of salsas, and fresh limes galore. For carnivores, there was "carne" (that's beef), freshly chopped in front of you in the market.
"No hable espanol" generally brings mild amusement and sincere assistance. Yet there are sharp edges. As a foreigner, one pays extra for everything, a fee for not knowing the local language, when taking a cab, negotiating a purchase, or ordering food. And, of course, some of us took turns with mild discomfort in our digestive tracks.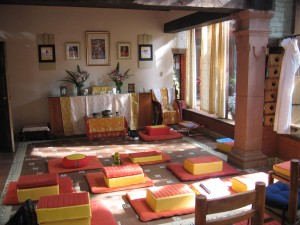 Mexico's rich golden sunbeams at high altitude make the silence of the shrine room feel deep and penetrating. Adding texture to the stillness were the occasional blaring loudspeakers on the street, the unexpected fireworks and parades for local saints, and delightful high-volume dancing-tuba melodies on the radio of a passing car.
During the program, Acharya Simmer-Brown conducted an oath ceremony on behalf of Sakyong Mipham Rinpoche to install Angela Pressburger as Education Officer of the Shambhala Office of Culture and Decorum. Ms. Pressburger was the Head of Decorum to the court of the Druk Sakyong and looks forward to sharing her knowledge and skills with our community in the spirit of true service.
For our main activity, Werma practice, Jean and Brus Westby served as wonderful coordinators and shrine keepers. And Casa Werma remains in good order thanks to the devoted efforts of Eve Halpern and Chris Alvaro. Our hosts made it easy and delightful to attend a program at Casa Werma!
Post Tags:
Casa Werma
,
Celebrating Casa Werma's 30th Anniversary
,
Werma