Thursday
Featured Stories, Video, Audio, Photos
Meet the Newly Appointed Shastris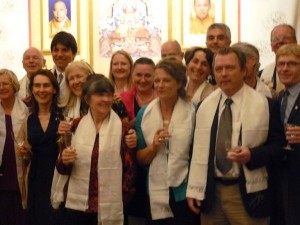 As the culmination of an intensive training program, held in mid-July, nearly sixty shastris were appointed in a ceremony conducted by Sakyong Mipham Rinpoche.
Led by Acharyas Judith Simmer-Brown and Adam Lobel, the training focused on pedagogy for the Way of Shambhala, the new curriculum for students entering the Shambhala Buddhist Path.
Shastri candidates came from around the world to Shambhala Mountain Center for the training–from as far away as Chile and New Zealand. This gathering of seasoned teachers, both young and old, was permeated by an atmosphere of open exploration, kindness, and celebration. View photos from the shastri gathering.

Click on any photo to enlarge or view as a slideshow.

From the Shambhala News Service…
Friday evening 16 July the Sakyong ceremonially installed 58 shastris in a heartfelt ceremony at Shambhala Mountain Center. Having successfully completed a training program led by the Kalapa Acharya Lobel, Acharya Simmer-Brown and Ms Carolyn Mandelker, these individuals hold a new teaching and mentoring position within the Shambhala mandala.
In Sanskrit, shastri literally means, "teacher learned in the texts and commentaries." The Sakyong has asked the shastris to represent and teach his integrated Shambhala Buddhist curriculum, "The Way of Shambhala." Acharyas will continue with their broader roles as senior teachers of Shambhala; shastris will teach on more local and regional levels.
This first group of shastris have been chosen to serve in our largest city and regional Shambhala centres for terms of three years. Additional shastris will be appointed in future years, as the needs of our local and regional centres become more clarified. While shastris serve as senior mentors, all of our other skilled and committed centre teachers are encouraged and still greatly needed to continue to teach.
The shastris' portfolios will include strengthening and developing our teaching mandala, bringing current understanding of the Shambhala Buddhist curriculum vision to their centres, and mentoring and training other teachers. Shastris will also support the leadership in Shambhala Centres in building community, and strengthening the vision of enlightened society.
For a complete list of the shastri and the centres and regions they represent, please visit: http://www.shambhala.org/teachers/index.php
Photos courtesy of Becky Hazell, Betsy Pond and Dominique Malardo.
Post Tags:
Shastris
,
Way of Shambhala