Monday
Community Articles
Summer's Blooming Households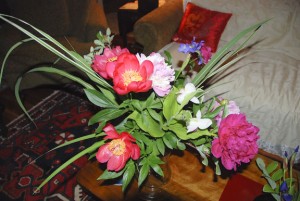 Jennifer Holder reflects on this summer's abundance of marriage and birth announcements.
Women in white, couples in kimonos, faces pink from their fresh arrival in Shambhala. With each new marriage or birth announcement, I could sense that a gigantic community-wide step forward has occurred. They showed up in my inbox so often this summer that I felt the need to offer everyone the opportunity to tear up and reflect.
Whether I know the members of the household or not doesn't matter — what matters is that a family among our greater family has expanded or been formed. It is as though a fresh bud has peaked its way into our bouquet, and the hills surrounding our lineage tree are enriched with a new color.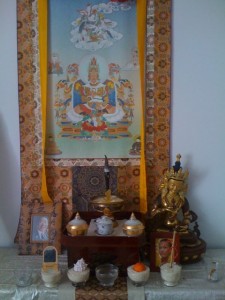 I can imagine the new shrines that are being assembled. Several times I have heard of couples purchasing larger shrine tables, with room for his & her, his & his, or her & her meditation sessions. Since shrines are the mirror of a household, they might include his Ashe brush and her offering bowls. His conch might replace her chipped one, and because her tea choice is more refined that becomes the brand of choice.
And then there is the swift growth and change that occurs on the platform of a child's interaction with the lineage. A little shrine in a nursery displaying gentle White Tara will one day have a bow and arrow on it, and I can just hear the squeals and claps that accompany the placement of the King and Queen on special days.
David Whitehorn has pointed out that being part of a household is an opportunity to rejoice in service. Each birth announcement I receive from proud parents broadcasts not only their wonderful addition, but the fact that they will be involved in one of the most intense forms of bodhisattva activity available. And when I see couples kneeling before shrines, I can almost see the paramitas blossoming in their faces as they commit to this relationship as a path towards realization.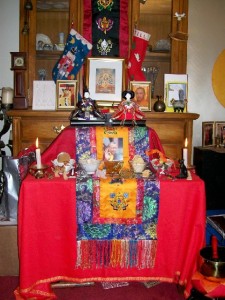 It's moving to acknowledge that these budding Shambhala Households will unfurl throughout this lifetime. They are the relationships on which all else depends until death sweeps all away. These are the faces who will support, test, encourage, and boost each other as citizens of Shambhala contributing to enlightened society, each in their own way. These bonds are the steel girders our community builds upon in everything we do.
We have such forms to accompany family-ship that our containers can be strong for each other. Just look at how Shambhala men actually know how to decorate and dress — a vivid reflection of the rare power of our teachings. Dignity radiates from our households, all because of the moments commemorated in this special theme on the Shambhala Times.
Marriages and Births. Go ahead, tear up in the understanding that these moments bring about the future of all.
Post Tags:
Birth Announcements
,
marriage
,
Shambhala Households
,
summer blooms