Tuesday
Mandala Projects
First Day of School at the Surmang Shedra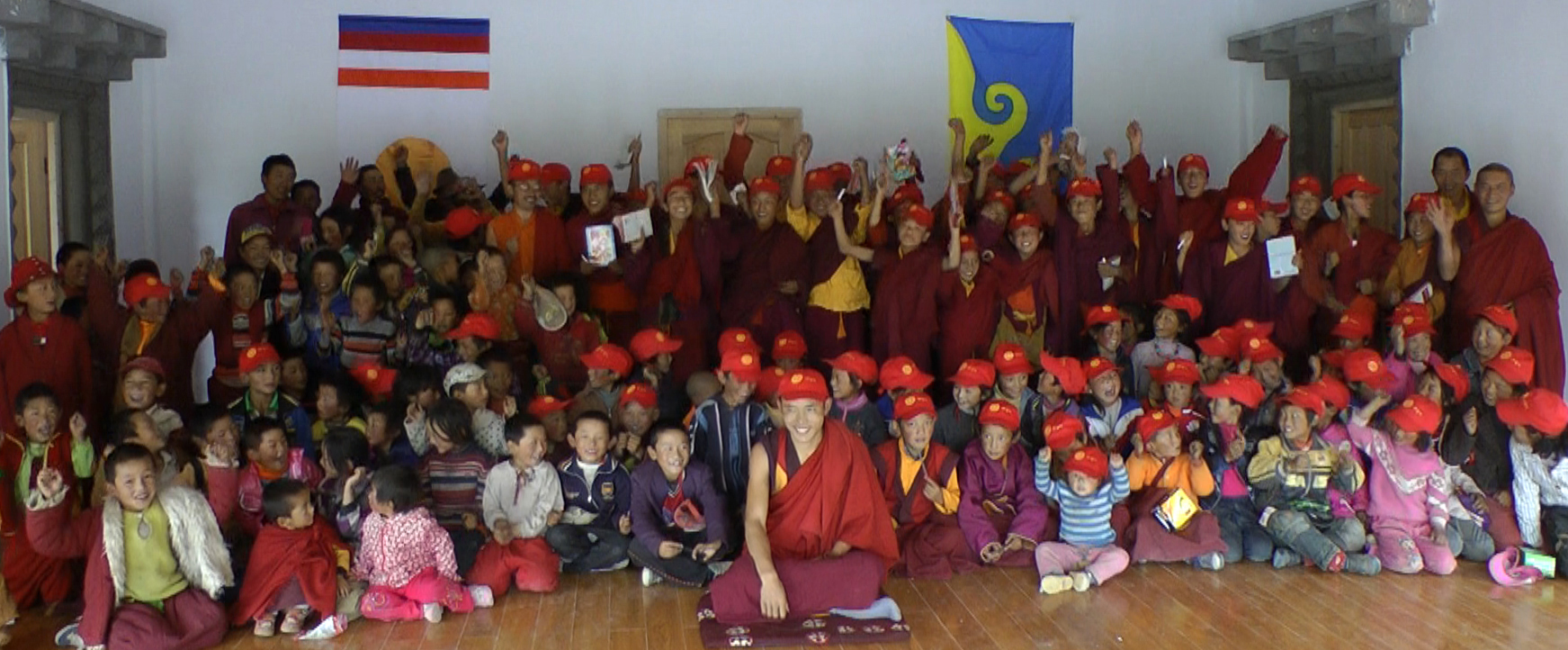 Letter from President Richard Reoch to the Shambhala Mandala

To everyone in Shambala worldwide –
THIS is an amazing photo. It was taken on the first day of school at the Surmang Shedra, just five months after this year's earthquake that devastated so much of the area.
This is what the long years of rebuilding the shedra have been all about. Not only reconstructing this noble site in the Shambhala heartland of Chogyam Trungpa Rinpoche, but meeting the single greatest hunger of the Surmang villagers – the education of their young people.
This is definitely a shedra with a difference. You can count them yourself: not only some 30 young monastics, but more than 70 other local children – and that includes both girls and boys.
You can see a remarkable short film shot by Jon Ransohoff and edited by Lyndon Comstock who were just there. Please click here. You can see the great progress we have made on the shedra and feel the energy of all these young people on their first day of school.
Lyndon and Jon also brought back a message to us from Trungpa XII Rinpoche. In it he says:
The shedra at Surmang Dutsi Til will be of great benefit to the entire community of monks, nuns and laypeople. Owing to the kindness of Sakyong Mipham Rinpoche and the entire Shambhala community, the shedra is now close to completion this year… In order to ensure that the teachings of Chogyam Trungpa Rinpoche spread widely and do not decline, it would be good for these teachings to be studied by the entire community at Surmang Dutsi Til in addition to the Shambhala community. In this way, I hope that both Shambhala and Surmang can work together on practicing and developing these teachings.
Lyndon and Jon were also able to conduct the first-ever filmed interview with him, and we hope to put that online very soon.
You can visit a lovely collection of photos now up on the Konchok Foundation website along with an article from Lyndon about how things are going and what remains to be done to complete the shedra (they are starting to use it as a school, but there is lot left to finish).
The big challenge we face now is to get the rest of the construction work done so that the shedra can be properly consecrated. There is about $150,000 of work to be done.
It has taken us six years and $740,000 to get this far. (Bob King insisted on rigorous construction standards, and thankfully the shedra withstood the earthquake.) Now we are in the final stretch of making this happen.
I know there are many funding requests at this time of year, but I wanted everyone to get this and share in this wonderful news. If you are touched by these photos and films – and by the fact that this is actually happening in this remote and unbelievably poor valley – please join me in visiting the Konchok Foundation webpages (http://www.konchok.org) and giving an open hearted offering…
With so much appreciation to everyone who has wanted this to happen,
Richard Reoch
President of Shambhala
________________________________________
View more news about the opening of the Surmang Shedra.
Post Tags:
Konchok Foundation
,
Surmang Shedra