Friday
Community Articles
Karme Choling's Neighborly 40th Anniversary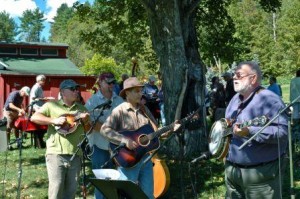 By Sue Gilman
Karme Choling invited its neighbors and business partners to an all-day celebration of its 40th birthday on September 11, 2010. Jane Arthur, executive director of Karme Choling, described her inspiration: "We have been in this community for 40 years and have a deep appreciation for this beautiful region and the wonderful people who have been our partners, friends, and neighbors all these years. We saw this party as one way we could express our gratitude."
Over 300 people came and went during a perfect, sun-filled Vermont day and enjoyed demonstrations of kyudo, golden ball tai chi, and ikebana, and received meditation instruction from Acharya John Rockwell and Acharya Michael Greenleaf. There were tours of the house and the garden and a hike to the grates. Sal DeMaio's band played delightful bluegrass music during the barbecue lunch on the lawn and the Linda Waarnar Group played Latin jazz during the cocktail reception in the pavilion that ended what turned out to be an action-packed day.
In the afternoon there was a small panel of friends who told stories about being neighbors with Karme Choling for so many years. Long time resident and author Reeve Lindbergh spent several hours at the event and was a member of the panel. She offered her impressions of the day.
_________________________________________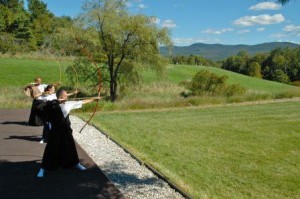 Karme Choling's 40th anniversary — what a beautiful day! I came around 11:00 with the Golden Ball Tai Chi group from St. Johnsbury, to do a demonstration of the program we'd been enjoying for several years with Patricia Anderson, Sal deMaio and Joanne Post. We went straight to the Pavillion, walking past waving flags and Camelot tents, several of us wandering through the gardens in the sunshine on our way. We were joined by several other Tai Chi practitioners and a few innocent bystanders who enjoyed the show.
As I was practicing "standing like a tree," I noticed how beautifully the great sturdy rafters from the old Patenaude barn had been incorporated into the light, airy quality of the pavilion itself, and as the day continued I had more and more the impression of an easy mingling of old and new within this celebration. A friend from my local writers group was taking meditation instruction, my lawyer and his wife, in baseball caps on the lawn, were eating a picnic lunch and listening to Sal DeMaio's band, our family doctor wandered through the scene, and the local storekeeper served on a panel with me later in the day, discussing what it was like to be "neighbors" with Karme Choling over forty years.
It was a good time for remembering the beginnings of this Buddhist presence in the Northeast Kingdom, and for reflecting upon how much the people and practices of Karme Choling have come to mean to us all.
Reeve Lindbergh, a daughter of aviator-authors Charles A. and Anne Morrow Lindbergh, is the author of more than two dozen books for children and adults. [Her work has also appeared in a number of periodicals and magazines including the New York Times Book Review, The New Yorker and The Washington Post. ] She has lived in Vermont since 1968, and makes her home in Passumpsic, Vermont, with her husband, writer Nat Tripp, and their sheep, chickens, and dogs.
Post Tags:
Karme Choling