Wednesday
Shambhala News Service
Surmang Monks Chant the Kagyu Gurtso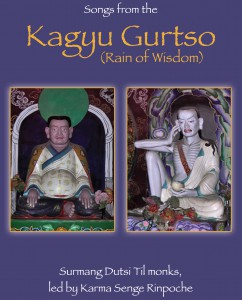 Announcing a new Rain of Wisdom CD-DVD to benefit Surmang Dutsi Til, the home monastery of the Trungpa lineage in Eastern Tibet.
The first recording at Surmang of songs from the Kagyu Gurtso (Rain of Wisdom) is being released today by the Konchok Foundation. The 51 minute CD and 17 minute DVD includes varja dohas by renowned lineage holders including Milarepa, Marpa, Gampopa, and Jamgon Kongtrul the Great. The song recital is by a group of Surmang monks led by Karma Senge Rinpoche, the nephew of Chogyam Trungpa Rinpoche.
The CD-DVD set is offered here as a gift item for donations of $35 or more to Konchok Foundation to support the new Surmang shedra. It will also be included in the Shambhala Media catalog.
"These songs…are the insight of our forefathers… The reason we refer to them as songs is because they are based on the melody of circumstance, and on meditative experience. They are cosmic onomatopoeia, the best expression of sanity."

– Vidyadhara, the Venerable Chogyam Trungpa Rinpoche
from the foreword to The Rain of Wisdom
The Kagyu Gurtso is a unique collection of vajra dohas, or songs of realization, first compiled by Mikyo Dorje, the eighth Karmapa (1507-1554). For centuries, Kagyu monasteries, including Surmang, have recited these songs annually, particularly on the anniversary of Milarepa's parinivana.
Following the 1980 translation of the Kagyu Gurtso into English, as The Rain of Wisdom, by the Nalanda Translation Committee, the Vidyadhara Chogyam Trungpa Rinpoche instituted within the Shambhala community the practice of an annual reading of the text on Milarepa Day.
This will be a first opportunity, for most people, to hear these songs as they are recited in Tibet. To make it easy to follow along in The Rain of Wisdom, the liner notes for the CD-DVD set provide page references for each song.
The nine songs on the CD were recorded by Jon Ransohoff and Lyndon Comstock at Surmang in August 2010. Five of these songs are included on the DVD. Additionally, four short videos about Surmang Dutsi Til are included on the DVD.
The Konchok Foundation is hosting a $150,000 fundraising drive to complete the Surmang shedra and also for the initial operations of the children's educational program at the shedra. Although structurally complete and painted, the shedra is still completely unfurnished and in need of numerous finishing details such as electrical connections.
Visit the Konchok Foundation website to make a donation and receive a CD-DVD set.
Post Tags:
Kagyu Gurtso
,
Konchok Foundation
,
Surmang