Tuesday
Community Articles
The Magic of Children's Day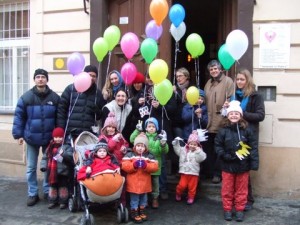 By Susan Williams
Children's Day is our holiday when Mandala Principle is celebrated. It is an opportunity not only for those with young children to gather, but for the entire sangha to celebrate our lineage and our places in our Shambhala world. It is an opportunity for us to actually create enlightened society, as we manifest and 'Rule our World', bringing light and warmth into our homes.
Traditionally, our family talked a lot about the change of seasons. In December, we would drive around to see the 'solstice' lights as we called them, and applaud others who were also celebrating the return of the sun. We talked about how the sun is not really gone, and that after the solstice the days would grow longer and the nights shorter. We also celebrated the Summer Solstice, usually together on a beach, building a bon fire and singing our favourite songs, feeling a bit sad that the longest night had arrived and the days would gradually get shorter. Whether you live in the Northern or Southern Hemisphere, the solstice is a celebration of the earth and sun, of the natural rhythms that rule us, and of our precious friends and family who accompany us on the path.
Last weekend I attended a "Healthy Play" workshop that was held at the Shambhala School in Halifax. According to the presenter, the two most important types of play for children are modeling adults and outdoor activities. I think participating in Children's Day is an example of 'healthy play' for community members both young and old. It seems Children's Day is an offering of the best we have, whether we live with small children, aging relatives or a few roommates. How we manifest as the King or Queen in our world is key to our practice as householders, and an expression of our love for each other. I am also looking forward to a Children's Day with a couple of Queens or a couple of Kings. Examples of kindness and gentleness in relationships of all kinds are what we all need and thrive on.
The outdoors is always a great place to be with your friends and family and understanding the natural rhythms of the earth are essential in connecting us to what nourishes. It is fascinating to look at how cultures have explained the solstice. Whether it is the North American native trickster Raven stealing the sun on behalf of the other creatures or La Befana looking for the next child who might be the King or Queen of Light, the tradition of celebrating the lengthening of the days is told in story form around the world. These and our own Shambhala stories such as 'Iliana' can be shared with our family or friends on this day to remind us all of the magic the world holds. By celebrating our mandala's richness on Children's Day, we encourage that magic to enter our households every day.

Children's Day Resources:
Children's Day
Iliana Story by Walter Fordham
Invicti Solis: Children's Day & other Winter Solstice Traditions
Winter Solstice and Children's Day
Winter Solstice: The Unconquered Sun by Janet Shotwell
Post Tags:
Children's Day
,
Families and Children