Wednesday
Community Articles, Mandala Projects
Love Letter to the Future
In this three-part series, Jennifer Holder writes about the creation of a Shambhala Time Capsule, something the Vidyadhara requested of his student Steve Roth. Steve has dedicated himself to the project for three decades.

In this first article, Jennifer reflects on the nature of a Dark Age and world in the future that may need a "spiritual atomic bomb," as the Vidyadhara said, to puncture the solidity fostered by aggression and speed.
We are poised to send a love letter to the future. It has already been written, we have the technology to seal the "envelope," and now all we need to do is package it and adhere the stamp. Three decades ago, the Vidyadhara asked that his terma and teaching legacy be concealed and preserved so that, at some point far in the future, it can be released once again. After the Vidyadhara planted his teachings in our hearts, Sakyong Mipham is helping them flourish, and each of us bears seeds to share. Our lineage holders are also acutely aware that there may come a time when conditions drive dharma underground, into dormancy. It may need to be uncovered, literally, to awaken once again – whether conditions come together hundreds or thousands of years in the future.
By collecting past and present teachings on Shambhala and Buddhism, preserving them in a time capsule, and burying them beneath the Great Stupa of Dharmakaya, we offer the future a light that could brighten the coming Dark Age and illuminate the Golden Age that is said to follow. The challenges we endure in our own age highlight the need for warriorship – but when we reflect on the increasing momentum that carries our world into a Dark Age, our hearts can extend into the future through a love letter sent forward in time.
In the 23 years since the Vidyahara's death, the experience of being human has changed. Our essential nature remains the same – evident in the enduring power of his teachings – but our lives run on a faster timeline, we wield digital tools that often rule us, and as the ideals of efficiency and endless growth pervade our days we painfully bump up against our good universe's natural clock, her rules of excess and decline, the fine dance of personal relationship, and the discipline required to return from infinite distraction.
While we live our lives — applying effort to the Shambhala path, to earning a living, to supporting our families – many of us are facing the fact that the speed and aggression that fosters our need to insulate and escape is not going to get better with the next politician, and that affluence might even make it worse. Each of us is devoted to our personal project – how we contribute to creating an enlightened society. By bringing the Dark Age to our attention, the Vidyadhara gave us an avenue for being kind to ourselves as we endeavor to be part of such a world, and still maintain mindfulness and insight.
In the midst of this era, as Shambhala warriors we are laying the groundwork for an enlightened society that will endure all that comes. While our children, their children, and generations going as far into the future as we can conceive of may be able to stand on the ground of enlightened society, it isn't hard to imagine a time in which dharma has been forgotten. Whether due to the state of our minds, the political tides, or outright obliteration of sacred outlook, history has shown us over and over again what humankind is capable of when overwhelmed by the materialistic motivation and view, led astray from its inherent basic goodness.
But history is also full of heroes, of secreting away wisdom, of leaving monuments that point to another way of living. Padmasambhava left a legacy of awakening in this way, an ever unfolding love letter to people throughout time that they could read and understand. The dralas mailed us love letters through our lineage holders: the Vidyadhara has planted this love letter in our hearts by revealing terma; the Sakyong is bringing it further to life so that its messages are written on the very walls of our houses, so they line the walls of our cubicles, infect our use of the computer, and can take internet users by surprise through google. As the next generation in the lineage peers over her father's shoulder, we glimpse the space our next Sakyong will fill with his or her imbued vision.
Mailing beings of the distant future a love letter is an amazing gesture of compassion that goes against this age's conventional mind. What forms can survive the turbulence of historical and earthly shifts in environment, technology, and culture? What truly lasts in an ever-expanding and enticing throw-away, individualistic world? The tools we rely on in our day-to-day life, the very objects that support our endeavors are tossed carelessly into landfills and trash barges, never to return to their natural state.
In Shambhala, we are building the roots of long-term sanity. Its manifestation is our societal forms, its heart is the Shambhala terma. At its core is our unchanging natural state. Warriorship is a way of being, and enlightened society binds our expressions to sanity. But under duress and oppressive circumstances, societies crumble and warriorship can be forgotten for a time – whether for a moment, a day, a decade, a century, or longer. In overwhelming circumstances, humanity needs an enduring point of return, an arrow that pierces to the core of the truth of our minds. Humanity needs the dharma.
During the time he taught in the West from 1970-1987, the Vidyadhara established warriorship and society. He elaborated on everything – from the minutiae and expansiveness of our minds to the social fabric that weaves sanity into everything we do. And we have record of it. Both Sakyongs have given us thousands upon thousands of pages of text. And, if placed into the hands of a future humanity dearly in need of it, they too will have the precious tools that can establish enlightened society. They too will come to recognize goodness as the inherent state of themselves, their world, and their expressions. Our love letter to them is a hand-off of weapons, with which they can pierce and shed thick confusion, proclaim basic goodness, and establish lives in accord with the nature of things.
So here is the point of our great dilemma – how do we mail this precious letter? How do we see through the transient formats of our time and arrive at something utterly enduring and accessible to an era that may regard our technology as artifacts, or that may have returned to subsistence living? What materials will resist deterioration? And how do we house the sheer bulk of the Shambhala canon?
The Vidyadhara did not have the answers to these questions. But he knew who to charge with the task of finding them. And for the last three decades, Steve Roth has lived with the challenge.
Click here for the second article in this series, An Elegantly Preserved Package.
To donate, kindly follow this link to the Time Capsule page on the Sakyong Foundation website. Click on the red "Donate Now" button on the right side of that page. You can then choose your method of payment. Please select "Time Capsule Project" in the Donation Purpose field.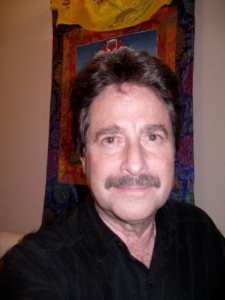 ____________________
Steve Roth met the Vidyadhara Chogyam Trungpa Rinpoche in London in 1968 and has been his student since 1970. Steve is a member of the Shambhala sangha and lives in Boulder, Colorado. If you have any questions, comments, or would like more information, you can contact Steve Roth by email: [email protected]
Post Tags:
Chogyam Trungpa
,
Dark Age
,
Time Capsule