Sunday
Community Articles, Mandala Projects
Gathering the Cost of Postage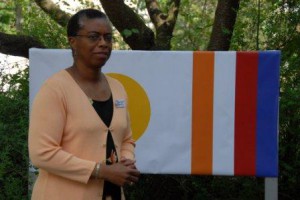 In this third article dedicated to the Shambhala Time Capsule, Jennifer Holder encourages the financial support of each other's projects, so that an individual's vision truly becomes the work of our entire community.
As the age of speed and aggression gains momentum, the Shambhala Time Capsule is a way in which our sangha can send an immeasurable gift forward in time. It is not something an individual such as Steve can accomplish on his own – it requires that we do this together. Our compassion for beings of future generations – and for ourselves as we return to fulfill our bodhisattva vows – is expressed by the transfer of the Shambhala canon to these inscribed ceramic tiles and their encasement in titanium. While amazingly reduced in cost by the simplicity of the materials – from millions of dollars to $215,000 – we can gather the cost of postage. The Shambhala community has rallied under Steve's inspiration and he has so far raised $165,000. An additional $50,000 is needed to complete and conceal the Shambhala Time Capsule.
Throughout two years writing for the Shambhala Times, I have interviewed many people about their projects, aimed to assist the establishing of enlightened society. The fruition of these aims is most often dependent on the generosity of our community. Without consolidated wealth or a system of taxation or tithing, we rely on inspired generosity.
These projects do not consist of individuals working for their own ends. In seeking financial support, there is an acknowledgment that these projects are being completed with the good of human society in mind. And turning to the sangha for financial support is a return to the heart of our motivation. We cannot accomplish enlightened society alone. And supporting the projects that dwell in the hearts of our fellow sangha members is a support of us all.
This form of generosity is a shift in view on two matters – that the value of what is to be gained cannot be measured, and that in our world individuals truly do act in the interests of the many.
Often we feel we cast money into the sea when we donate to Shambhala causes. This is because we are so accustomed to seeing an immediate result: receiving reports of good works done or seeing the value of our investments increase. But Shambhala donations are gifts of space to space. What is unconventional is that by relinquishing the need to see demonstrations of fruition, we are able to respond to the present in appropriate ways.
So let's be truly Shambhalian and cast these tiles of dharma into the future as we cast the seeds of awakening through authentic presence. Where they fall and in what circumstances they will sprout and grow we cannot know. In the same trusting spirit, we can donate to a cause whose effects we will not see in our lifetime, and show our support of the heart-project of a man who alone has carried the burden of a great endeavor on behalf of many.
To donate, kindly follow this link to the Time Capsule page on the Sakyong Foundation website. Click on the red "Donate Now" button on the right side of that page. You can then choose your method of payment. Please select "Time Capsule Project" in the Donation Purpose field.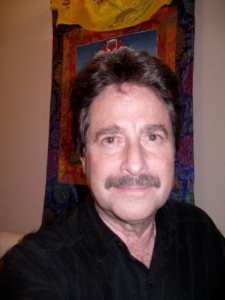 ____________________
Steve Roth met the Vidyadhara Chogyam Trungpa Rinpoche in London in 1968 and has been his student since 1970. Steve is a member of the Shambhala sangha and lives in Boulder, Colorado. If you have any questions, comments, or would like more information, you can contact Steve Roth by email: [email protected]
Post Tags:
Chogyam Trungpa
,
Time Capsule