Tuesday
Community Articles, International Programs, World, other
First Open Sky Weekend in Oz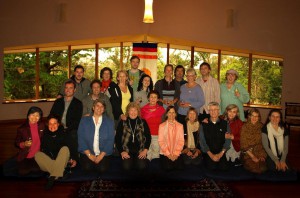 This fall, 21 Aussies completed Level V and the Heart of Warriorship. This is the first time in Australia that a Shambhala Training Level V has been offered. Maria Losurdo shares her experience of traveling and training in the massive country of Oz.
In November, a busy year of teachings culminated with the first Level V, offered at the Melbourne Shambhala Center. Starting with Level I in March, taught by Acharya David Hope and co-directed by his lovely wife Shastri Chris De Block. I flew to Adelaide the following weekend to attend their first Level II, but Shastri Henry Chapin came to Melbourne in May to direct a Level II there — I have it on good authority that he had them completely under his spell and out of their cocoons by Sunday afternoon. The gentle giant, Jesse Miller, came in July for his second visit to Melbourne – he had directed their inaugural Level III twelve months earlier and had stuck around to kick-start their first Meditation in Everyday Life program. Marian Bond, our very own regional Shastri and area representative, taught Level IV in September and helped us all to awaken our hearts. And finally, Janet Solyntjes came to our rescue in November when our original teacher was taken suddenly ill. With only one month's notice, Janet rearranged her busy schedule and came and directed the wonderful Open Sky- Level V.
We are far away from the centre of the Mandala here in Oz – most of these teachers have to travel between 13 and 20 hours on 747s to get to us. In this big country, students too face a long journey to Melbourne. From my home in the Blue Mountains, it is over 950kms (600miles) of driving, flying, buses, and trains for each level. Tania and Carey come from Queensland and Dianne from Northern NSW – so their journeys are almost twice that! Even for the average Melbournian, a sprawling city over 200kms (125miles), reaching the center requires, on average, a 45 minute drive. Luckily, a new centre – Northern Rivers — is opening near the border of New South Wales and Queensland. They are scheduled to host their first Level 1 in January, 2011 http://northernrivers.shambhala.info/index.php. Carey, Dianne, and Tania all intend to help them out by staffing the levels as they roll out.
The road to Shambhala opened to me through Ani Pema Chodron whose teachings have blessed and guided my daily life for a number of years. Sometimes inspiring and uplifting, sometimes confusing and challenging (sometimes both at the same time), Shambhala has often been paradoxical — yet always valuable. A roller coaster ride that brings the gift of clearer understanding of the whole, which came more into focus with Level V.
My overall Shambhala experience has also been greatly enriched by an ongoing connection to Ani Pema's teachings, and from the three weeks of Dathun I attended at Karme Choling earlier this year (this is where I first met Janet Solyntjes). I will be able to complete the Dathun in January when Kay Crinean (a former Aussie – now living in Halifax) returns home to visit family and friends. She has kindly offered a week of her holiday time to direct a weekthun, which will include MIEL and a Level 1 weekend.
Memories and highlights from all of these experiences call out to me now as I share this account, with particular words and images flowing in: Leaning in, touching and letting go, trust, daring, Dot, humbleness, openness, effortless effort, courage and fear (to name just a few) stay with me and dance in my consciousness while cohabitating with my daily life. For which I am very thankful.
I am unsure what path ultimately lies ahead: Buddhist, Shambhala, Shambhala / Buddhist, or even if these distinctions really matter? I do know I am headed to the teachings of Great Eastern Sun in Melbourne in February and that I happily take my knowing — and my not knowing — with me on this next part of the journey. I'm looking forward to finding out more (or not) along the way. Nothing is broken, nothing needs to be fixed.
There are so many people who have helped make all this happen, but none have worked so hard or with so much love and commitment than the Shambhala Melbourne Meditation Coordinator, Aine Marron.
On behalf of all us, thank you Aine and thank you Shambhala Melbourne!
Post Tags:
Melbourne Shambhala Center
,
Open Sky