Thursday
Arts and Poetry
Tonglen Tango
Medium of the breath – tonglen tango
a poem by Kunga Dawa
LISTEN:
medium-of-the-breath-tonglen-tango
Alright, I'll write, not words reflected on
but starbursts of radiant light from nowhere, the deepest inner space.
It's neither here nor there, it's everywhere, its messenger the bright green
hummingbird with scarlet throat sipping from red geranium flowers sunlit
shivering warmly in summer breeze outside this cabin on Greenhorn Mountain
as joy percolates exhales bubble up sizzles from fingertips through neurons to blue
jays and small lizards
(why oh why those tiny ants love to gather and sing songs in the scallop shell I put used teabags in?)
and out, out, to foxes chipmunks bears turkeys marmots deer and chipmunks,
all human and non-human beings in Orphan Valley and beyond,
New Mexico – please dance and play guitarras, tap feet, strike drums in every pueblo
and share the pulsing rhythm of happiness without reason in bustling cities
Albuquerque Phoenix Denver Chicago The Angels of California Saint Francisco
may this vibrant joy be yours to wiggle your toes and ease your woes that no-one knows
this blood's for you!
Just give me in return – address unknown return to sender – yr skull-cracking anxieties
hypertension yr hot black misery
stomach-cramping hunger yr impotent murderous purple rage yr long-held grievances
irritations beyond the reach of Excedrin and Valium and extra strength Tylenol
yr headaches ulcers and joint-twisting arthritic inflammations,
yr gasping for breath emphysema and cancerous agonies of toxic self hate
give me yr jailhouse blues head-hanging disappointments and suicide despairs:
I drink them in.
I take upon me yr muffled sorrow nightmare fears cockroach tenement Snoop dog-eat-dog murder rape,
barroom and crack house round and round addictions, khorwa,
yr hunched and stooped depression salt tears of self-pity and remorse
all the pain of wasted life twisted limbs" I breathe it in.
I draw it in hot and sulphurous through every pore
deep down into the core of my being, there's room for more.
And again I radiate and offer you in the ten directions
cool and blissful all-joy luminous peace nothing wanting
like a gentle summer rain that quenches every thirst
and out of nowhere brings an unexpected smile
refreshing breeze of deep contentment sending and gathering
gathering and sending on the medium of the breath
sending and gathering for all beings everywhere.
________________________________________
Listen to more poems by Kunga Dawa from his new book,
Medium of the Breath: Dharma Poems for Here and Now: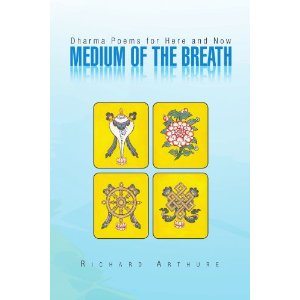 Selected Haiku
haiku
Widely Scattered Showers
widely-scattered-showers

Remembering The Kind Root Guru Chokyi Gyatso, the 11th Trungpa Tulku…
remembering-the-kind-root-guru
But What of the Light Side?
but-what-of-the-light-side

Convergence
convergence
________________________________________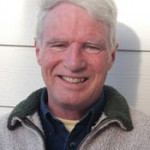 Richard Arthure, better known by his Buddhist name, Kunga Dawa (All-Joyful Moon), was a close student of Chogyam Trungpa Rinpoche and was the first Westerner authorized by him to teach the dharma. He continues to travel and teach throughout the US and Canada, transmitting the Buddhist and Shambhala teachings with characteristic insight and humor.
His new book of poems is called Medium of the Breath: Dharma Poems for Here and Now, published by Xlibris and sells for $15.99. Some signed copies are available and can be ordered by emailing the author at [email protected]
Audio files recorded by Nikki Kayser of KGNU.
Post Tags:
Kunga Dawa
,
poetry