Thursday
Community Articles
NYC Children Send Gift Packages to Surmang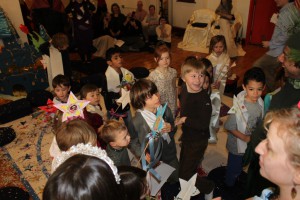 By Anne Kenan
Last October President Reoch sent out an email to the Shambhala community sharing a photo and video taken on the first day of school at Surmang Shedra. The group photo showed one hundred some-odd children–from toddlers to teens–with arms raised in cheer and faces beaming. Though a bit blurry, the photo captured the joy, excitement, and appreciation of the day in its utmost clarity. As I watched the video, I was further moved by the sights and sounds of Surmang and the energetic bustle of the children as they filed in on opening day. The windhorse was evident.
As a teacher of the Shambhala Children's Program in New York City I thought, "There's an opportunity here." I was inspired by the possibility of establishing a connection between the children in New York, involved in our Children's Program, and the children at Surmang.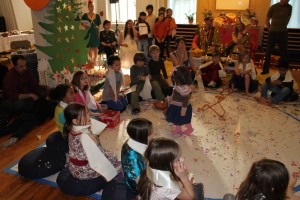 Children's Day seemed the perfect occasion to honor and reach out to the children of Surmang. At our Children's Day celebration we dedicated our annual gift offering to the Children's Educational Program at Surmang, raising over $500 (thank you parents!). And for their part, the children helped put together a gift package, including drawings, photos, notes, stickers and balloons, to be sent to our young brothers and sisters in Tibet.
We send our love and blessings. KI KI SO SO
Photos from Children's Day in New York City (click on any photo to enlarge):
Post Tags:
Children's Day
,
Konchok Foundation
,
New York
,
Surmang