Wednesday
Scene and Heard
IN THE NEWS: Findings of the Shamatha Project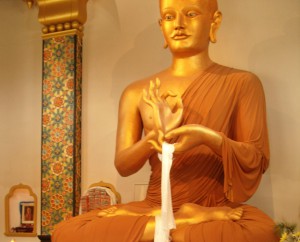 Shambhala Mountain Center gained media attention recently in The Observer, one of Britain's oldest Sunday newspapers. The article, "How meditation might ward off the effects of aging," discusses the findings of the Shamatha Project, led by Dr. Alan Wallace and hosted by Shambhala Mountain Center in 2007.
Over the course of two retreats, each three-month in length, Dr. Wallace guided participants in the study in various forms of shamatha ("calm abiding") practice and the cultivation of the "four immeasurables" (lovingkindness, compassion, sympathetic joy and equanimity). Participants devoted themselves to meditating for eight to ten hours daily and collaborated with a team of neuroscientists and psychologists led by neuroscientist Clifford Saron, Ph.D. from UC Davis. What did they find?
The article in The Observer begins…

High in the mountains of northern Colorado, a 100-foot tall tower reaches up through the pinetops. Brightly coloured and strung with garlands, its ornate gold leaf glints in the sun. With a shape that symbolises a giant seated Buddha, this lofty stupa is intended to inspire those on the path to enlightenment.

Visitors here to the Shambhala Mountain Centre meditate in silence for up to 10 hours every day, emulating the lifestyle that monks have chosen for centuries in mountain refuges from India to Japan. But is it doing them any good? For two three-month retreats held in 2007, this haven for the eastern spiritual tradition opened its doors to western science. As attendees pondered the "four immeasurables" of love, compassion, joy and equanimity, a laboratory squeezed into the basement bristled with scientific equipment from brain and heart monitors to video cameras and centrifuges. The aim: to find out exactly what happens to people who meditate. Read more.
The Observer reports on the Shamatha Project's remarkable findings that link meditation not just with stress reduction but also with an enzyme called telomerase, which helps to build back aging cells. This explains the caption below a photograph of the Sakyamuni Buddha image, housed in the Great Stupa of Dharmakaya, that graces the homepage of The Observer this week:
"Relax… it might mean you live longer."
Read the article on The Observer. Learn more about the Shambhala Project. Visit the Center for Mind and Brain at UC Davis.
Post Tags:
in the news
,
meditation
,
science
,
Shamatha Project
,
Shambhala Mountain Center