Friday
Community Articles
Rejuvenating the Sangha in Amsterdam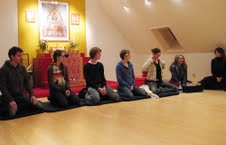 By: Jerry de Groot
After meeting at several magical Buddhist Youth Festivals in Germany, three young Dutchmen began organizing weekly evenings for young people at the Amsterdam Shambhala Center starting in 2009. The formula was simple: design a nice postcard, spread it around at colleges and universities, and have a clear "Youth" or "Young Sangha" section on our center's homepage. The postcards appeared particularly well received at public Buddhist and meditation events; our initial guests also used them to pass on to their friends. Most guests found us because they googled "Buddhism Amsterdam" and read that we have special evenings for young people.
Half an hour before we start we have coffee, tea and biscuits ready and make at least two coordinators available for early arrivals. Isn't it nice after you have gathered the courage to go to a meditation center for the first time to be greeted by someone offering you a drink and starting a chat with you? During the first few months, we only offered meditation instruction and sitting: an hour of sitting and walking, guided by a Shambhala meditation instructor. Usually, at least a few people would show up, mostly new people every time; although at times no one showed up. Since many young people seem to live in cyberspace, most of them left their email addresses so that we could easily invite them for our next meetings; based on a new formula: monthly theme nights.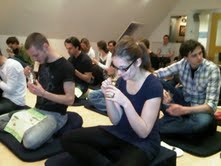 Our premiere night was a blasting success with 25 participants. They enjoyed interrogating Mr. Gesar Mukpo who was auspiciously in town because his film Tulku was screened at the annual Buddhist Film Festival in Amsterdam. All our theme nights have some interactive element, for example a live kado demonstration, mindfully eating birthday cake, or sharing thoughts about a hot topic like 'relationships & sex' introduced by a Shambhala teacher who feels ready for a nice challenge. ;-) A theme evening could be organized as simply as watching and discussing Pema Chödron's videos about loving kindness on YouTube; however, we always have a Shambhala meditation instructor or guide present. Firstly, he or she opens each night with half an hour of meditation; secondly, to answer the most interesting and unexpected questions about life, ego, and our 'not-always-what-you-expect' kind of Buddhism. Finally, another x-factor in these evenings is to invite everyone to have a drink at a nearby pub afterwards.
Many guests appear to really appreciate the social aspect of our evenings together. I had noticed that I personally didn't return more than three times to the prior meditation center where I got my first instruction because we weren't encouraged to socialize. Then I got invited to Shambhala and felt much more at home. (Good job and thanks Stockholm!)
If you would like to start a similar effort of reaching out to young people at your center, I have some advice based on our experiences. Most critically, you will need to have two or more young sangha members who are really dedicated to supporting the entire effort: "Yes, we want to meet people from our age who are interested in Buddhism and meditation!" Then there are two steps to take: see if there are already similar youth groups in your area and connect with them; and then start organizing regular evenings at your center.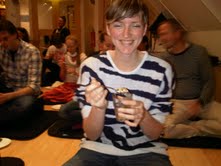 I believe that the key success for the Amsterdam young Sangha nights is three-fold: firstly, our view is good – we recognize that people from the mid-teens to mid-thirties have very specific interests and a strong desire to interact with each other. Since we believe supporting these interests and discussions is so helpful, we encourage them also to go to other Buddhist youth events. For example, we have also hosted a full day program with workshop(s) from various wisdom traditions.
Secondly, the path is good: all our evenings start with meditation and then encourage the participants' innate wisdom to dawn through active participation and dialogue. The experience of having a Shambhala meditation instructor to guide such dialogues and answer questions has provided the necessary presence of the lineage.
Lastly, the fruition is good: young people readily connect with our energy of kindness, trust and generosity. Friendships are growing and we started asking frequent visitors to help setting up and organizing theme nights. Also, from seeing an apparent interest by young people and recognizing the importance of rejuvenating the sangha, the Amsterdam Shambhala Center agreed to offer a special youth price for Way of Shambhala programs. This proved to be a great success (see Shambhala Times April 1st 2011)
Post Tags:
Buddhist Youth Project
,
youth sangha