Tuesday
Community Articles
Owning the Bow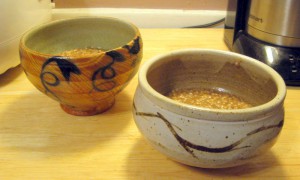 By Patrick Groneman
My girlfriend and I sit down for breakfast in our narrow Brooklyn kitchen. The sun strolls through sheer white fabric and onto the pale wooden countertop next to us. I'm holding a black ceramic bowl of oatmeal at eye level out in front of me; I look over to my girlfriend as she cups her bowl with both hands. Down the hallway I hear tumbling drumbeats from laptop speakers, my roommate singing and tapping along at his desk.
We begin a morning breakfast chant, floating over the words together. My stomach squeezes inwards, bracing against an imaginary judgment I project onto my roommate's gaze. This bowing and chanting stuff is not cool, and I've yet to own it. What if he views all this spiritual stuff I do as a sign of weakness? Better hurry through…
"Ki ki! So so!" ends the chant, and we bow before the oatmeal rushes in. My stomach relaxes as my girlfriend and I sit for a while and talk, the taste of stewed bananas interjected into our morning chit chat. The sound of the music down the hall is juicy and tart like a ripe grapefruit.
A few weeks later…
I'm standing on the roof of a converted industrial loft building in Williamsburg, Brooklyn. The sun has just finished setting on a small group of mingling musicians, artists, and writers. The earthy smell of roast chicken battles the toxic stench of lighter fluid for dominance in the air. There are slow beats pulsing out of a makeshift deejay stand a few feet away.
After chatting with the guests for a few hours, I've decided to find a small bit of refuge alone near the south edge of the building. Most folks have gone from tipsy to drunk, or have at least grown sleepy from the food. For the sake of my digestive health, I'm not able to consume most of what is being offered at the barbecue — alcohol included. I'm sober as a sponge.
I look down at a small red plastic bowl, flimsy in my palms. I look over my shoulders and take half a moment to acknowledge the quinoa salad in the bowl, no chanting and no bow, before proceeding to place the leaves and seeds on my tongue.
It's at moments like this that I envy the social role of a monk. If I were wearing a saffron robe and had no hair, I could do all the bowing and chanting I wanted to, and it would feel perfectly normal, no one here would think twice. I can't remember the last time I saw a monk at one of these parties though…
Later that evening I'm sitting alone on a leather couch in a dimly lit industrial-sized living room with concrete floors and cinderblock walls. I regret not bowing on the roof; the food deserved better.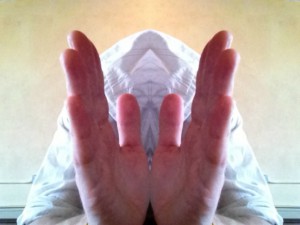 One week prior….
I am sitting at a kitchen table in northeast Baltimore, my girlfriend and her two moms flanking me on either side. Before us sits a smorgasbord of pasta, hummus, fruits and veggies. My eyelids are heavy, and the family's miniature pinscher, Isaac, is speedily pacing the floor around our legs, yapping tiny barks at us.
Piles of dharma books are neatly stacked about the house–the air is thick with intention as the four of us at the table all raise our arms over the food and begin the Shambhala meal chant.
"Lord of the feast, master of the feast.. " Chanting in a group, I feel safe to open up. The words have substance, and they vibrate the airspace in front of me. My heart and hands feel connected as I bring my palms together and end with a bow.
We chew, swallow, and chat for another two hours, my exhaustion unbothered by my remaining in the sanctity of the meal space. I feel like my mind and the room we sit in have been transformed. The walls push up against gravity, and a metal basket with bananas in it pulls back down. The next day I wake up thoroughly refreshed, not hungry again until late evening.
Alone, I struggle for confidence in my practice, in owning my ability to create sanity inside the currents of confusion. As a pair, my girlfriend and I struggle to relate our practice to our friends. In a group of three or four practitioners, sanity becomes the expectation rather than the underdog. This change creates a powerful current, and when harnessed, makes the process of transformation a ripe fruit waiting to be picked.
Earlier today…
I'm sitting on the steps of a park on the Lower East Side with two Buddhist friends. We are on lunch break from a weekend retreat at the Interdependence Project. I hold my cup of lentils chest high in front of me; I say a silent word to myself and offer a bow.
Both of my friends have already begun eating. It's up to me to make this change!
Post Tags: