Thursday
Community Articles, Northeastern States
A Mandala Approach to City Center Expansion
The Shambhala community of Boston has been diligently working to manifest the 2020 Vision of Sakyong Mipham Rinpoche and is committed to offering Shambhala to greater Boston. But what does that mean and why are we so committed to it?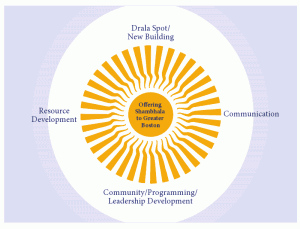 Here's the story… Five or six years ago, the Sakyong asked the Boston community to move our Center to a more accessible, larger, and visible space. Since that time, the Center's program participation has almost doubled. In response to these changes, two rounds of community meetings were held, which resulted in a move committee being formed to begin the process of searching for appropriate buildings. After much discussion with the board, move committee and entire community, however, we discovered that there is much more to expanding our Center than simply moving into a new building. At that point, Shastri Carolyn Krusinski gathered insights and ideas from the community meetings and developed a mandala that represents our aspiration to grow our community organically. Our leadership is now spearheading the effort by organizing itself around this mandala in the following ways.

Offering Shambhala to Greater Boston
At the center of our mandala is the vision of "Offering Shambhala to Greater Boston," which represents that the Shambhala teachings are at the core of our community's greatest offerings to the Boston area. We have an extraordinary community of inspired practitioners, up-and-coming leaders, and seasoned teachers who want to offer these precious and transformative teachings to benefit the larger Boston community. Our process – beginning, middle and end – is rooted in basic goodness as we work towards creating a culture of profound kindness.
Community, Programming and Leadership Development (CPLD): Strengthening our Community and Turning the Flower out
Strengthening our Community: With this vision, we quickly realized that we needed the community's full support and engagement in order to expand. To present these teachings widely, we need more leaders in the form of teachers, coordinators, greeters, umdzes, volunteers, staff, Dorje Kasung and more. This is work that needs to start immediately – not when we're about to move into another, larger building! In response, we are working on a number of initiatives: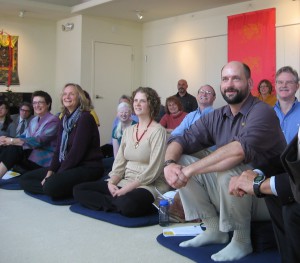 Community:
1. We are clarifying what it means to be an Enlightened Society – as practitioners, members, and people in the world. To this end we are:
– Clarifying our membership policy by reworking it to clearly communicate what our paths of practice and study, service and generosity are and how community can be more involved as members.
– Exploring diversity and what kind of outreach it requires by looking into how we can open our doors wider, and how we can reach those who may not feel like they belong.
– Revitalizing Nyida Days, which are times for our entire community to come together to celebrate the changing seasons and our connection with nature.
2. Strengthening our Dorje Kasung squad, which provides the ground for effectively opening our doors to more of Boston without compromising our brilliant Shambhala teachings.
3. Integrating the magic of families and children into the community through education and group activities.
Programming & Leadership Development
4. Through the hard work of our Resource Development group (see more below about them) we have hired a new full-time Head of Practice and Education – Ms. Barbara Hopcroft. Barbara is working with our Shastris to increase and support our Way of Shambhala offerings, strengthen gateway programs and fully support all levels of practitioners, volunteers, leaders and teachers.
5. We are creating a culture of mentorship by encouraging our senior students and teachers to mentor new members and volunteers in our societal forms by integrating teachings and action.
Turning the Flower Out: Our aspiration is to offer meditation outside the walls of the Shambhala Center. One way to do this is to establish relationships with our surrounding community and to offer meditation programs; another is to mix meditation with social action in ways that will be of benefit to greater Boston. Our current limitation is the shortage of staff and teachers for our expanded programming. Currently challenged in doing this outside of our Center, we do have a number of inspired and dedicated members who are spearheading a few important and inspiring projects:
1. Community members have been preparing and serving meals once a month at Haley House, which is a local shelter that provides meals and other support to the homeless community.
2. We are fortunate to have a trained expert in hospice care in our community, Jill Hurley, who has organized hospice trainings for the Shambhala community. In order to integrate the practice of hospice with meditation, Jill is also coordinating an on-going monthly meditation group specific to caring for the aging.
Resource Development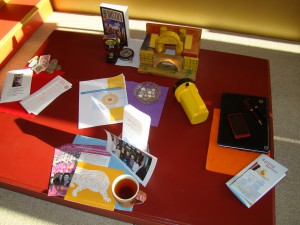 Over the past three years, the Center leadership has worked tirelessly to clean up our financial reporting to create the ground for expansion, and the Resource Development team is made up of professional fundraisers and inspired community members. Our current campaign is called Raising the Banner. The goal of this campaign is to meet individually with all community members to share our expansion plans and ask for an increase in dues to support our objectives. In addition, this endeavor is raising awareness of long-held views about the powerful green energy called money and engaging in community practice around what it means to be generous. Our current objectives are:
1. Fund a third full-time staff person – our Head of Practice and Education.
2. Clarify our generosity policy and seed a scholarship fund to support our community in attending core path programs like Warrior Assembly, Dathun and Seminary.
3. Resolve our space challenges and become more visible by renting an additional space in another location in Boston for an ancillary Shambhala Center, and begin seeding a fund for the move from our current location.

Raising the Banner has almost completely funded the new position, and they still have more members to meet with!
Communication
Clear and mindful communication is necessary for any great endeavor. Communicating the vision of our expansion to membership, and inviting them to join us with their inspiration and enthusiasm has been a key element of our process. As we go forward, we plan to communicate who we are and what we offer to greater Boston, positioning us as a resource for meditation, societal vision and compassionate action.
To form the Communications committee, we brought together individuals in our community who are skilled and experienced in all types of communications. We branded the Raising the Banner campaign, designed an expansion pin, and produced a professional brochure and poster on this theme. To foster timely and clear communication as developments occur, two board members are providing email updates to our community, and are offering their skills as a resource to other parts of our mandala.
Drala Spot
In order to become part of the fabric of the greater Boston community, we need a Center in a more visible location where there is a strong drala presence. One of our great challenges is how to take this leap without being foolish, by applying discernment and wisdom to our choices and planning. In addition to finding a more visible location, we are committed to having greater accessibility, more shrine rooms and office spaces to create more diverse community and program offerings, as well as adequate parking and subway access. Our first step in this endeavor is to rent an additional space that will meet many of these qualities.
Our Drala Spot team includes a real estate agent, contractors, an architect and interested community members. They have contemplated advice from Eva Wong on auspicious sites for our center and explored these areas of Boston.

Our goal is to open a second Boston Shambhala space by November 1, 2011!
In closing…
As Centre Director, I have witnessed real changes in our community as a result of this process – we are more kind and our hearts have opened. We are clarifying our governance structure and have new inspiration, direction and focus. We are also more aware that we need a plan (which we have created, and it is 40 pages long!), and that we also need to ask for and accept the blessings of the dralas and the lineage.
My aspiration in offering the Boston Centre's process is to be an inspiration and resource for other communities who endeavor to make this leap. The Sakyong is asking all of us individually, as a community, and socially to trust our basic goodness and establish Enlightened Society now – and we can do it. We are a community of generous practitioners and leaders, and all of the talents and skills of our community are needed to make this happen. The expansion in Boston would not have been possible without the teamwork of the entire community, and we will not be able to go forward without you!
KI KI SO SO!
~ Jill Blagsvedt, Executive Director, Shambhala Meditation Center of Boston

More news on Boston's Expansion Process: http://boston.shambhalatimes.org/tag/expansion-news/
Post Tags:
Director Updates
,
Expansion News