Monday
Community Articles
Mukpo House
by Judith Broadus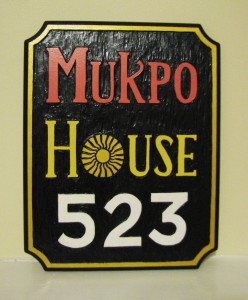 The Mukpo House in Lexington, KY arose from the Shambhala vision of merging spirituality with our everyday lives to create enlightened society. As it states on the website of Sakyong Mipham Rinpoche, the spiritual head of Shambhala Buddhism, "The Shambhala tradition believes in the inherent wisdom, compassion, and courage of all beings." It shows how to use worldly life as a means to ripen this spiritual potential. Shambhala Buddhism is a path of gentle warriorship where one stabilizes the mind through meditation practice, trains it through working with contemplations such as "centering ourselves within a state of contentment is how we become totally happy", and by turning our mind towards others.
One way that the Sakyong is encouraging people to engage in transforming our culture into an enlightened society is by beginning at home. "Shambhala is historically connected with household," he said before entering his deep retreat at the end of 2009. He went on to say:
I feel that the next phase is really this notion of the Shambhala Household. A person could choose to say, 'I would like to live as a Shambhala Household', and they would participate in this way. I would send a letter of acknowledgment that their home is an official Shambhala household and that they wish to live their lives according to certain principles.
Rinpoche stated that this would be a big step towards building enlightened society – one household at a time. He also said that these Shambhala Households would reflect any myriad of possible living arrangements, and would "be a source of social change, kindness, and kinship."
Back in 2000, two local sangha members from Lexington, KY purchased a large, white, rambling brick house in the historic district, (built circa 1887) that had most recently been used as a retirement home for VA Veterans. Years of neglect had left the structure dilapidated and cluttered, but still with "good bones." The original intention was to create a home for people suffering from traumatic brain injury, as one of the buyers had a son with a brain injury, and he was perceived as likely needing lifelong care. Subsequently, the services of a residential neurological rehabilitation program became available in the state, so the immediate crisis had been averted. After extensive renovation, the building itself was leased as a community-based room rental situation attracting residents from the local health food cooperative who wanted to live communally. This arrangement lasted from 2000 through 2009, but since the residents were mostly university-aged students, the dwelling came to be known as, "the Party House", and plans for changes of occupancy were discussed. The two owners began auspicious discussions with several long-time sangha members who had aspirations to form a communal living situation and practice house. One of the residents was recently inspired by living for a year at Gampo Abbey. Once again, in 2010, updated renovations began on the old building, financed by the owners.
Recently, Mukpo House began the actual experiment of a communal living situation that aspires to fill the criteria to be recognized as a Shambhala Household. Language in the Mukpo House Residential Lease attempts to assure that the vision of the Sakyong, and of the owners, is manifested and upheld. The lease explains that Mukpo House is a place of practice and development, as well as a home. Residents must agree to commit to these intentions, and to "support the functioning of [Mukpo House] directly," by engaging in practice and study, work, and community activities.
Overall, everyone is very pleased with the current aspiration to be officially designated as a "Shambhala Household." One resident said, "Being mindful of the presence and needs of others living in the house is quite a change from years of private solitude, and I'm actually looking forward to acquiring a few more roommates." The same person also mentioned the inspiration of living with others who have been practicing for many years and the new-found joy of mindful gardening. Despite feeling slightly annoyed with the pace of accomplishing the many details that still need to be completed on the renovations, the group is inspired by the opportunity to host sangha visitors from out of town, to host communal potluck dinners, and to simply be together as a community. Most of all, we see the Mukpo House, in Lexington, as a place to practice and grow in the way of Shambhala for many years to come.
Post Tags:
Shambhala Households