Sunday
Community Articles
Refuge Vows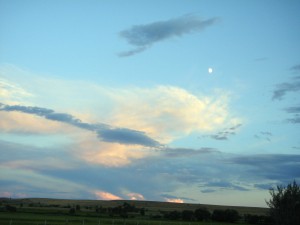 by Heather Grimes
I recently discovered an essay from my Refuge Vow Ceremony while looking through some old writings; the following is an excerpt. This particular vow occurred at the end of a dathun at Shambhala Mountain Center, of which I attended one week, in January 2006.
The American Century Dictionary definition for refuge is "shelter from pursuit, danger, or trouble."
The shrine room is overflowing with those who are taking the vow as well as those who came to support them—family, friends— each perched and beaming with a shiny device for documentation. We are all awaiting Rinpoche's arrival.
I admire my freshly dressed comrades in the outfits they find to be fitting for the experience. Brian with a newly shaven head beams from inside a perfectly pressed slate-gray suit. Nick traded in his favorite plaid flannel for a wrinkle-free cowboy shirt, tucked into jeans that lack stains and holes. Jeffrey's hair lies evenly against his forehead and I am certain a comb is close by.

We've had few reasons to get dressed up at Shambhala Mountain Center. When Rinpoche comes to give a talk, we attempt to uplift our wardrobe out of respect for him and the teachings, but that's pretty much it. So when a valid occasion requests for us to pull out our fanciest duds from the suitcase and iron them in the bathhouse, most of us step up to the task. (And anyone who can present a look of glamor in the shrine room is deeply admired, since no shoes are permitted.)
I straighten the triangle of my skirt around my seated knees and press the heat in my cheeks with cold fingertips. I realize I have no idea what most of these people do on the outside. What livelihoods, family-life and hobbies they must have taken time away from to be here. Not much gabbing goes on in this kind of space. Words, facts and stories seem insignificant here, like distracting adornments draped and dangling from naked hearts. At home, such identifying facts about people are the focus of conversation. In these rooms, however, often in what we call noble silence, connections are made beneath the soil. And knowing that we are all human, we are all tender and bravely walking this path together, is more than enough information.
A gong sounds and we all rise in unison as Rinpoche enters, surrounded by a retinue of handsome people donning suits, lapels covered with pins and reflecting bits of light. We rise as if responding to an alarm and turn our faces eagerly toward him.
Rinpoche greeted us as "Refugees." As someone whose father actually did flee to India by foot when the Chinese invaded Tibet, the magnitude of this term is not to be taken lightly. He said what we are doing by committing —to the best of our ability— by taking Refuge in the Three Jewels is fleeing from dangerous country to safer ground, one choice at a time.
The ceremony itself is a bit of a blur. I am absorbed in the radiance of the shrine, the raw citrus quality of the yellow fabric that drapes behind it. The framed photos of Chogyam Trungpa Rinpoche and Sakyong Mipham Rinpoche. The exquisite painting of the Rigden King, gigantic and matted in the same crisp yellow. I notice the objects on the shrine, as well as the surface of the shrine, being remarkably spotless and free of clutter. The room emanates brightness, causing it to feel like mid-day even though we are well into evening.
My right foot has lost all signs of circulation, in spite of earnest attempts in shifting posture, as Rinpoche asks us all to stand again and repeat after him: "I take Refuge in the Buddha, I take Refuge in the Dharma, I take Refuge in the Sangha." We repeat the words and they fill the room, hanging in the air like strikes of a gong. Those words linger like moisture as we touch our prayer hands to our foreheads, throats and chest — offering body, speech and mind — and crouch to the floor to touch our foreheads to the ground in prostration, offering our whole being to the vow. This is quite a sight to behold by spatial standards since we are individually limited to the small space of our zabutons.
Next we are called to receive our Refuge Names.
We all rise in a procession, to stand before Rinpoche, offering low heads and shameless grins. He articulates one powerful name at a time then hands it over in its calligraphy-written form, a sort of declaration of commitment to the person standing in front of him. As I near Rinpoche, I feel as if I have stepped waist-deep into the ocean and am inching forward towards an open horizon.
"Rinchen Lhamo," he says, "Jewel Goddess."
I wish that each time my name is spoken from here forward, I will hear it in his voice, with his confidence. I feel completely empty and yet plugged in, a paper lantern of a woman. No one speaks but a sense of celebration is palpable through to the very last name. We all giggle and squirm as Rinpoche tosses rice on us, the new Refugees, as if we are a room full of newlyweds. The crowd of supporters in the periphery explodes into whistles and applause.
It is not until a ceremony like this one — the likes of which I have experienced only a handful of times in my life so far — that I am reminded of how fortifying this variety of ritual and celebration can be. Commemorating an event while surrounded by a sea of beloved peers cannot help but create a moment that is pregnant with sacredness.
These moments become a resource to draw on for strength when it is time to leave the shrine room again and return to the big, big world, when the vulnerability to fall to pieces returns.
–
Heather Campbell Grimes is a full-time mama to a 2 year-old diva named Opal. She's also a part-time massage therapist to a lovely group of elderly ladies. In the gaps, she is a member of the Boulder Shambhala Community and finds perspective on all things — right now, mainly parenting! — through writing. She loves to sew small things, read long books, bake zucchini muffins, shoot photos with actual film and stroll through the neighborhood at a meandering pace with her lovely husband and little girl. You can check out her blog at: http://thegrimesfamilychronicles.blogspot.com and other writings for Elephant Journal.
Post Tags:
dathün
,
retreat