Tuesday
Scene and Heard
A Delightful Autumn Wedding at Windhorse Farm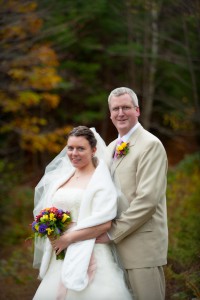 Patricia Kirigin (Courage Garuda) and Walker Blaine (Bamboo Humour) were married at Windhorse Farm on Saturday, October 29th, in New Germany, Nova Scotia. The bride and groom, both translators and longtime Shambhala sangha members, met at a Tibetan language program in Kathmandu.
The wedding began with a morning lhasang in the forest to invoke the blessings of the dralas. Juniper smoke rose high above the trees as mist wrapped around broad bands of sunlight that broke through the woods at the lhasang's end. The weather throughout the weekend gathering showcased the Maritimes at their best: a sunny afternoon for the wedding, nearly freezing temperatures at night, and a final storm that washed out roads around the province.
The afternoon wedding was presided over by Jim and Margaret Drescher using the wedding ceremony written by Sakyong Mipham Rinpoche. Offerings at the conclusion of the liturgy included a bugaku dance performance by Sarah Cox, a Celtic guitar and flute duet performed by the best man, Robyn Traill, and groomsman Bernie Kamps, and poetry by William Shakespeare and Sakyong Mipham Rinpoche read by the bride's mother Phyllis Kirigin and groomsman Peter Fried. The reception and dinner were playful, replete with toasts, songs, much laughter, and occasional tears of love and friendship. The bride and groom honeymooned in London, England and Kathmandu, Nepal before returning to their home in Halifax, Nova Scotia.

To view the wedding ceremony by the Sakyong, you will need your Shambhala Database member's login and click here.
Wedding photographs by Marvin Moore
Post Tags:
photos
,
Wedding Announcements