Sunday
VCTR Tributes
Right Place, Right Time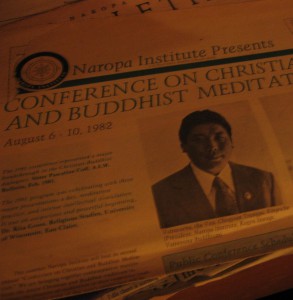 by Wolfgang Blumel
The year was around 1991, and I was in the middle of studying Maitri with Marvin Casper at Naropa, soaking in red Padma passion, when I found myself somewhat lost during a little weekend solo road-trip around Rocky Mountain National Park.
The night had started to turn pitch black, and the dirt road over Rollins Pass which I had been following diligently, according to an ancient road map supposedly belonging to the Vidyadhara and given to me by one of his old-time drivers, my dear friend Stefan Karmien, was turning from bad to worse. Maybe the "Dead End" road sign I had seen at the turnoff from Winter Park had been right after all? I just couldn't believe it. If the Vidyadhara's road map said that there was a road over the mountain, then there had to be a road!
And on I went, for several more hours of jaw-clenching 4-wheel driving in total darkness, until I finally reached an overlook, seeing sparkling Boulder right there in front of me. Relieved I parked the car and decided to continue my journey next morning, after a good nights rest on top of the Continental Divide.
Waking bright and early I discovered that there was no road leading down the mountain. There was a broken down tunnel on one side, and a fallen down bridge on the other, and right there in front of me, several gigantic concrete road blocks, and a big sign saying "Road Closed" – "But not for me" I knew!
I will gladly spare you the exact details of my hair raising, goose bumping adventures, all day, creeping down the mountain, road or no road. When I finally made it down to a place where I could see the actual road to Rollinsville, I was so exhausted that I decided to stay put for a few days, skip school, and enjoy the mountain lakes and scenery, celebrating the fact that I hadn't died.
Looking to start a fire I dug around the coals of an old fire pit, and found a torn off piece of newspaper that looked like it had been lying there for several years. When I picked it up, and turned it around, the face of Trungpa Rinpoche was smiling back at me, giving me a chill and making me realize that I was exactly in the right place at the right time
Post Tags:
VCTR Tributes
Share: