Friday
Scene and Heard
Mi'kma'ki: The Language of This Land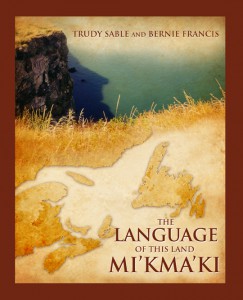 New Book Released by Anthropologist and Linguist who Team up to Produce the History of the Mi'kmaq Language and Culture
by senior Shambhala teacher Dr. Trudy Sable
with co-author and Mi'kmaw linguist Bernie Francis
review by Acharya Bill McKeever
"Blackfoot think of time on a two-day operational sense. There is 'now,' 'tomorrow,' and 'day-after tomorrow.' And backwards, 'now,' 'yesterday,' and 'day-before yesterday.' Beyond the two-day limit, forward or backward, past and present amalgamate and become one and the same. Plains Indians are not incapable of talking or thinking of the distant future or past, but it is always done with the 'constant flux' in mind. One of the implications arising out of this notion of time is that the ancestors are always only two days away."
~ Little Bear 2001:5, from the foreword to the book
This is a groundbreaking work exploring the nature of the language of the Mi'kmaw people and what it tells us about their world view. It describes how the Mi'kmaw culture arose from the land in Atlantic Canada, known as Mi'kma'ki, over the last 12,000 years. It explores how the land is considered alive and sentient, and how the language and the land are deeply intertwined. The authors explain how this world view is expressed through the living culture, how it is communicated and transmitted through place names, legends, dance and song. It concludes with a chapter on the state of the Mi'kmaw language today, which is perilous.
This book is the product of more than two decades of Trudy's tireless and inspired collaboration with dozens and dozens of Mi'kmaw Elders, members of First Nation communities as well as many academics working in related fields of study.
Trudy has explained, "This book is about drala, about my deep connection to the teachings of Shambhala, and why I am in Nova Scotia."
Trudy, a senior teacher of Shambhala Buddhism, has been a community researcher and educator working collaboratively for the last twenty-two years with First Nations and Inuit peoples within Canada and internationally. She is Director of the Office of Aboriginal and Northern Research at the Gorsebrook Research Institute, Saint Mary's University, where she also serves as an adjunct professor of anthropology.
Her co-author is Bernie Francis, the noted Mi'kmaw linguist and developer of a new writing system of the Mi'kmaw language.
Leroy Little Bear of the Blackfoot First Nation and Chair of Native Studies at the University of Lethbridge is a highly respected First Nations scholar and has endorsed the book and written its forward.
For Shambhalians, The Language of This Land represents an insightful account of the "ancestral sovereigns" of our adopted homeland here in Atlantic Canada, known as Mi'kma'ki. Trudy and Bernie's work provides a precious window into this traditional culture and how it is filled with drala and magic. This is reflected in the language and other aspects of a rich, living culture and its legends, dance and song. This culture has continued, inseparable from the land, for thousands of years. As Trudy writes in the opening dedication to this marvelous book,
"This book is a product of a lineage of Elders who spoke this language, danced these dances and walked this land, Mikma'ki. Through their generosity and courage, despite decades of cultural disruption, discrimination and marginalization, they have carried their traditions forward with humour and generosity. This is the greatest gift for all people living in Mi'kma'ki today."
The final chapter of the book is on the current state of Mi'kmaw language. It concludes, "It isn't good…"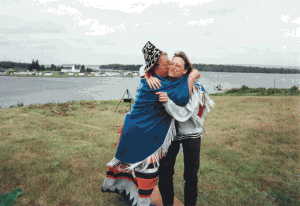 On the one hand, this book clearly conveys the incredible richness of the Mi'kmaw culture, and that it is still very much alive. On the other hand, if drastic action is not taken by Mi'kmaw community members and educators, the Mi'kmaw culture and language are both in danger of being severely diminished. What is needed is the establishment by Mi'kmaw communities of total Mi'kmaw language immersion programs.
First language immersion programs are both successful and empowering to the cultures they represent and seek to preserve. The Maori of New Zealand began such language immersion programs thirty years ago and they have been successful in preserving and strengthening traditional Maori culture.
Without such language immersion programs, there is the distinct possibility that the Mi'kmaw language, more than 12,000 years in development and reflecting a unique world view that literally "arose from the land", may be no more.
This book, already heading towards a second printing, is being picked up by university programs and regional libraries. May it be successful in generating wider understanding of and appreciation for Mi'kmaw language and culture. May Trudy's work open the minds of Shambhala community members to this traditional culture filled with drala.
~~
To read another review of this book, please click here.
Post Tags:
book release
,
book review
,
drala
,
Nova Scotia