Wednesday
California, Arizona, Community Articles
Exploring Communal Space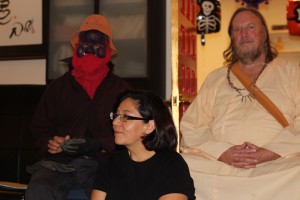 Foundations of Shambhala: a gathering
by Amanda Hodson
Here at the Davis Shambhala Center we have a Monday night social and discussion group for shamatha students, new practitioners and people interested in learning about meditation. It's called Foundations of Shambhala. The group provides a space for people to get to know our local Shambhala community and approach the teachings at their own pace, and is run primarily by a team of newer practitioners. Many Foundations attendees are now participating in Shambhala Training and the Way of Shambhala classes, as well as joining our sangha – Foundations brought 12 new members to our Center this past Shambhala Day.

Here's how a typical evening unfolds: We gather at 7 pm and people bring food to share. (There's a food theme every week such as Breakfast for Dinner, Pizza Night, California Cuisine.) We sit together in a circle and an experienced Davis MI leads a short guided meditation.
After meditation one of the team members serves as host for the evening, and starts group introductions, often with a general interest question that each individual answers as well. There are usually between 20 and 30 people attending, and as many as 6 or 7 per week may be new to the event. Ages vary – the youngest participant so far was 5 weeks old. Then the host introduces the food we've brought and everyone serves themselves, with the new people going first. We eat together and visit and then there's dharma conversation until 9 pm. After the group closes, everybody cleans up and puts the cushions back in order for morning meditation.
The conversation is different every time. Sometimes we have a reading, or view a DVD of one of the Sakyong's talks. Discussion is open-ended, with an emphasis on listening and allowing all questions to be brought up, rather than on a fixed curriculum or getting the right answers. The discussion may be guided by the MI's who are present, but the most wonderful interchanges occur when the participants speak freely with each other, sharing their direct experience and insight.
The Foundations of Shambhala group first met in April of 2011, after Asata Radcliffe and Amanda Hodson introduced the idea for the group to a gathering of MI's and Sarah Mandel agreed to be the Team MI. Asata participated in a similar group in Bellingham, Washington, where she worked closely with Acharaya Warwick. That group helped her understand and connect with Shambhala Buddhism, and she wanted to share the experience with other newcomers.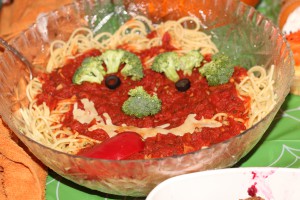 For the first few months in Davis, Asata prepared and brought most of the food until the potluck idea caught on. Now everybody participates in providing dishes and dinner is often lavish, with people exercising their cooking skills for the delight of the group. The sharing of food provides a wonderful opportunity for socialization and connection.
In addition, Asata has a strong link with her Native American heritage and the social form of the talking circle. She has diligently supported letting everyone speak freely about their questions and concerns, which means the emphasis of group conversations is on listening, opening up and feeling free to ask and inquire, rather than on making sure that the answer is correct. Sometimes this can be a bit of a challenge for the MI's, but it's good practice. The older students remind themselves that the Foundations is not a class or even an open house situation. It is a social and discussion group which nourishes connection and community for people entering our sangha.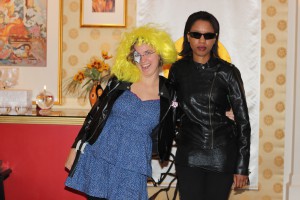 Currently the Foundations team consists of hosts Asata Radcliffe, Amanda Hodson, Rumana Rahman, Mona Miura, Keith Jones, Mark Robinson, and Alex Van Gils. One of the first six serves as host on a rotating basis, leading introductions, keeping time and orchestrating set-up and clean-up. Decisions about how Foundations works are made by the team. Sarah Mandel, Marshall Bishop, and Peter Sharp serve as Team MI's, but all the Davis MI's and most of the PI's and Shambhala Guides have participated in Foundations over the course of the past year. Many of the attendees are under forty and are interested in and active in what's going on in the larger community. This past fall during the Occupy movement on the University of California campus, when some of the Occupy activists were pepper sprayed by campus police while sitting, Foundations members decided to take the Monday night meeting to campus, and offered food and group meditation to any who wished to participate. They also helped staff a Meditation Station that offered instruction to those who wanted to learn how to meditate. The Davis Center now also has an Emergency Food Program that grew out of Foundations, thanks to the awareness of Asata and our Health and Well-being Coordinator, Leal Abbot.
Foundations is a source of great joy for all of us who are involved in it, and it clearly manifests the Sakyong's vision of bringing awareness of Shambhala into the world and helping many more people understand the reality of basic goodness and the Great Eastern Sun. If you're ever in Davis on Monday night, please drop by and join us, and don't worry if you don't have a dish to bring. We always have plenty.
Post Tags:
newcomers
,
Outreach
,
youth