Sunday
Northern Europe
Shaking Hands with Local Faith Communities
by Ali Warner, Director, Shambhala London
We received a letter from a local interfaith association asking if Shambhala London would like to join. It was one of many such letters which I usually feel I just can't deal with – it seems a constant challenge to maintain our own volunteer-run organization, without even thinking of further extending our energy and time out into other areas. However, our Shambhala vision of creating enlightened society can provoke us to take a fresh look at this response.

I had also been recently learning from my colleague, John Watters – an expert in systemic transformation at the organizational, community and societal level – that one of the strongest reflexes for leaders at the middle level of any system is to disperse and stay within their own groups without coming together. And without integration, full system transformation is not possible.
We could apply this to our experience in local Shambhala Centers and Groups, and Anna Weinstein's call for us to engage in more horizontal communication between ourselves rather than rely on the vertical chain of top-down instructions or bottom-up requests. But equally within society, if leaders of communities don't come together, the full combined power of those who practice for the good of our society cannot truly be felt.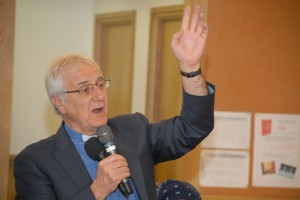 I wrote back to the interfaith association and said that Shambhala wanted to be involved. They were offering a small sum of money for any community who would host an event designed to bring at least three different faith groups in the local area together. I had already had my eye on the local Methodist church, who had done an inspiring renovation of their building to add a glass-fronted cafe that opened right out onto one of the busiest High Streets in London, hosting art and cake fairs among other events. It reminded me of the Sakyong's call for urban City Centers, and our wish as Shambhalians to be able to open out more to those around us.
The interfaith association also suggested that we connect with the local Islamic Center. It turns out they were based two streets away, although until this point we didn't know they were there, nor did they know about us. Having grown up as a Christian in Britain, I felt I had some common ground with the Methodists, but I had had very little contact with anyone of Islamic faith. It felt like a curious and unknown territory. Their building was a vast ex-dairy factory where they hosted annual teaching events for 1,200 people or more, although on a regular basis a small group of men, some of whom are residents of the building, were the main practitioners and leaders of the center.
My experience of creating the interfaith event was a great practice in noticing and letting go of my reactions and fixed views, in service of building something together. My very first contact with the leaders of the Islamic Center involved me reaching out to offer my hand in greeting, and experiencing them pull away and avoid my grasp. I knew that there was probably a form that I didn't yet know about, but I still felt the flicker of having taken a wrong step or done something wrong. Ali later explained that as a Muslim man he can't shake hands with a woman 'unless she becomes my wife'. I felt quite relieved about not shaking hands after that, and found myself doing a little Shambhala bow instead which felt respectful and warm.
We actually called our event Shaking Hands, and these distinctions of culture and gender continued to be both clearly defined in one way, and in other ways merged and overlapped. The Methodist church community is mainly African & Afro-Caribbean, and most of the members who came to the event were the female elders of the community. The Islamic center community representatives were all men of South Asian origin – in fact, the cook of the delicious Indian food they offered didn't speak English at all, so we just had to smile and wave in thanks. The men sat at the back around one table near the door, the women had stationed themselves at a couple of the central tables.
And where were the Shambhalians in all this? One of the things I discovered once I launched this event, was that my interest in making connections with different communities in our area may not be actively shared by everyone in my own community. One of the great benefits of this event is that it has raised questions and conversations for us within Shambhala which felt healthy and rich. Are we a faith community? Are we a religion? Many of us may have come to meditation after rejecting religion, and have little desire for reconnecting with active religions or faiths. And finally, in the face of the challenges I am experiencing in my own life in London, do I have the space to extend out even more broadly to others?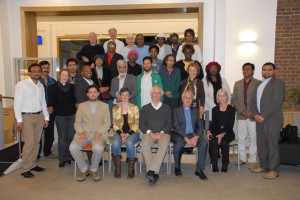 In the end, a small band of Shambhalians came to the event and in fact represented some of the overlap and cross-over that could be a more accurate reflection of faith in modern society at this time. Sreelata da Costa (nee Khan) – a longtime member at Shambhala – also turned out to be a longtime member of the Catholic church around the corner, and is of South Asian Islamic descent. Philip Stones was brought up as a Methodist and was singing along to the Wesleyan hymn presented by the Methodists as their offering. Nigerian members of the Methodist church shared that half of their family was Muslim and the other half Christian, and one confessed that he had also been coming along to Shambhala for meditation on Monday nights.
After a group rendition of Love Divine, All Loves Excelling accompanied by electric keyboard, led by Dorothy Blincoe who is the Choir Mistress and multi-talented leader within the church, Mohammad Ali Kadiwal presented a section of the Qur'an. He sang the section as a chant, which included the words "We created you from one man and one woman, and then divided you into nations and tribes so that you may know one another." His offering touched our hearts, and this was the moment in the evening where everything stopped and a moment of connection was most fully possible between us all.
The final part of the evening was presenting Shambhala, and this ended up being the longest part. I shared about the origins and current activities of Shambhala, and then Richard Bleckman, our Director of Practice & Education, offered a rich introduction followed by a practice of Shambhala Meditation. By this point we had reached the end of our evening, and we all separated again – the men headed off for evening prayers at the Islamic Center, the women cleared up the tables and set the Church cafe right for the morning. The event dissolved as simply as it had begun, and I knew that we had taken one step on a path on which we had many more steps to make.
~~
Interested in bringing your community out into the world around you? Talk to your local center!

Post Tags:
London
,
socially engaged
,
turning the flower outwards