Tuesday
Sakyong and Family
H.E. Namkha Drimed Rinpoche Arrives in Boulder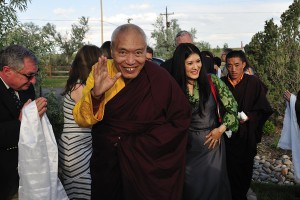 article by Gabriel Dayley
photos by Mark Conlin Photography and Michael Levy
On Monday, June 11, His Eminence Namkha Drimed Rinpoche — the supreme head of the Ripa Lineage and a living terton — arrived at the Kalapa Court in Boulder to the scent of juniper smoke and the cry of a conch shell. Acharyas, shastris and members of the Shambhala community lined the cobblestone path in front of the Court to greet His Eminence. Despite a long journey from Zurich, His Eminence appeared content and joyful, with a beaming smile.

After passing through the lhasang smoke, His Eminence continued through the large wooden front door of the Court, where he settled into the magnificent living room together with the Sakyong, the Sakyong Wangmo, Jetsun Drukmo, his daughter Semo Sonam, and Lady Konchok and her family.
Guests soon began to file in, offering khatas to His Eminence. The Sakyong appeared relaxed and joyful, while Jetsun Drukmo observed the guests intently from her mother's lap.
Following the ceremonial offering of khatas, the family was served Tibetan tea with butter and salt and sweet sticky rice with raisins, a traditional gesture of welcome. Meanwhile the guests enjoyed lively conversation in the entry hall and dining room and were soon served with Tibetan tea and cookies. During the festivities, Hamish Maclaren commented on the genuine kindness with which His Eminence greets everyone.
It was His Eminence's first visit to the new Court in Boulder, where he traveled to bestow the Magnetizing Gesar Abhisheka, as well as a special Gesar puja at the Court in which he granted blessings for the Shambhala community. After leaving Boulder, His Eminence will fly to Los Angeles and then New York to teach several more programs.

click on any photo to view as a slideshow:

Post Tags:
Boulder Court
,
Jetsun Drukmo
,
Khandro Tseyang
,
Namkha Drimed Rinpoche
,
Sakyong Mipham