Wednesday
Community Articles
Fort Collins Shambhala Center Hosts SMC Evacuees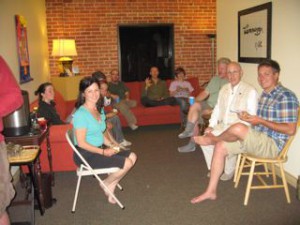 The Fort Collins Shambhala Meditation Center was a host center for nearly 20 Shambhala Mountain Center staff members who were part of a large group evacuated during the Colorado High Park fire near SMC this past June.
The refugees (the group quickly renamed themselves 'refugees' — instead of evacuees —  an endearing term we all continued to use throughout their stay) were able to use the Center as a central meeting place where everyone could gather each morning to practice together and to plan their days activities, whether it be volunteering to help clean up the Center courtyard, to help Fort Collins sangha members garden or pack moving boxes, to volunteer at the Boulder Shambhala Center as programming changes were being made from SMC to BSC, to head back to SMC for a morning or a day to help establish fire protection lines, to help haul supplies from SMC to Boulder or just to have a day to relax and recuperate.
As a Center, we attempted to impart a 'home-like' atmosphere by providing morning tea and coffee, fresh fruit, cold drinks, Ikebana arrangements, WIFI computer access, conversation and a quiet and clean atmosphere in which to spend time together and to practice together.  A couple of refugees made a point to have practice sessions available throughout the day for not only refugees but open to local FCSMC practitioners, as well.
We were able to connect many of the refugees with the Larimer County Disaster Center for support issues.  Financial aid was readily available for medical needs and for food stamps.  One of our members, a psychotherapist in private practice, spent an afternoon talking with the group about self-care during disaster.  The City of Fort Collins opened their hearts to all evacuees from the surrounding communities.  A grocery bag full of breakfast burritos, a number of hamburger meals and meals at an Indian restaurant were donated by three separate restaurants at different times to help feed our guests.  A nearby gym was free and open to all evacuees and swimming was free at a local pool.
An outdoor grill became the means for the refugees to cook their evening meals together and several FCSMC members helped provide fresh garden produce and meals, as well.  The SMC group self-organized the evening meals and there was no lack of food in the kitchen refrigerator.  Generous monetary donations from 35 individuals were made to help support the additional costs to the Center (increased utility bills, supplies, etc.) with the remainder to be given to SMC to help them financially, as well.
A special evening visit from Shambhala International President Richard Reoch and his entourage gave both refugees and hosts an opportunity to hear the expressions of appreciation from the Sakyong and Sakyong Wangmo for the efforts of all the SMC staff to accommodate all the changes taking place in a very short period of time to hold four major SMC summer programs in Boulder instead of at the Mountain Center.  We shared tea and a special carrot cake sent to us on behalf of our Sakyong Wangmo.
It was a busy and rewarding time in that the SMC refugees were strongly supported by our sangha.  We thank the many members who helped make this happen and especially those who so willingly opened their homes to house our SMC friends for their entire stay.
A good team effort, to be sure and enlightened society at its best!
by Ann Reichhardt,                                                                                                                               Director of Societal Health and Well Being                                                                                           Fort Collins Shambhala Meditation Center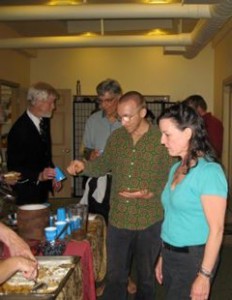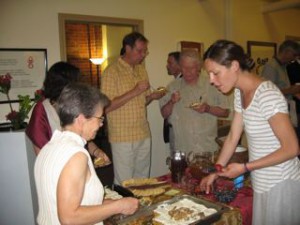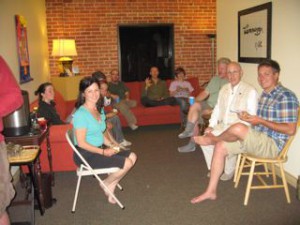 Post Tags:
Enlightened Society
,
Shambhala Mountain Center