Tuesday
Community Articles
Raven, part 2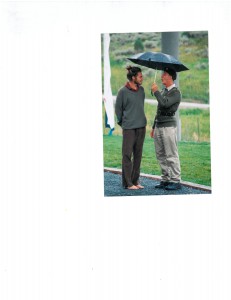 In which we learn the rest of the story of two men in service to the Shambhala vision. The author, Aaron Delong is currently a gardener at Karme Choling and here profiles a long serving member of the Dorje Kasung: Mr. Gerry Haas. Read part 1 here.

by Aaron Delong, Shambhala Times Regional Correspondent
"I've driven a lot of teachers," he said, relaxing in the passenger's seat. "The Vidyadhara, Khenpo Tsultrim Gyamtso, the Sakyong and Sakyong Wangmo. A great honor. Not as easy as it seems, though. Some people, some perfectly good drivers, they lose it when the principal gets in the back of the car and it's time to go." He told me of a couple people whom he'd had to remove from driving duties because they'd turned into liabilities when it mattered most. "You have to be relaxed," he told me. "One-pointed. Alert."

I thought about his words, months later, when I was invited to drive the Sakyong during the Being Brave retreat. By then, the snow was long gone, the green mountains were green again, and the kasung were all in short sleeves. I sat in the car, watching the window on the second floor of the main building at Karme Choling, waiting for Sakyong Mipham to come out of a meeting. I thought about it, about freaking out, and how the mundane can turn complex in the anxious mind, so that even an action as simple as a right-hand turn can become an obstacle course of self-consciousness. I also thought about how the same sort of awareness, let go, might turn the mundane into something sublime. The art of everyday life.
And it was while I was sitting in the car with these contemplations that he appeared, the man who'd introduced me to the potential vagaries of driving great teachers. He came out the front door of the main house, the white Garsung lanyard roped over his shoulder. Smiling. He'd been all over the center the last couple days, during the retreat. It was clear he was enjoying himself, managing the entire campaign as if it were a fixed kind of space to be envisioned, comprehended, organized and packed up with both confidence and good cheer. He came over to me, relaxing for a moment beside the driver's side door.
"It's funny," he said, "how it all comes back to you."
I recalled that he'd told me before that he'd had a falling out of sorts with the Dorje Kasung once, some time ago. I asked him about it.
"Well, I was the first Dapon, you know," he said, "before the uniforms came in. When they did, though, I couldn't handle it. I stepped down. I freaked out, really."
It took him fifteen years to 'get it,' he said.
"And when I did, when I came back, I came back as a buck private. As low as you can get. People who'd been my subordinates, were now my superiors. I took it. I had to. What else could I do? 'Yes sir, no sir,' I said. A few years later, I went to encampment. Proved myself, all over again. The Sakyong was there. He knew who I was, my relationship with his father and, at the end, he made me kado. Some time later, he gave me my Shambhala name, too. Gave me a real old-time one." He smiled at that, the light breeze brushing the flags up above.
"What was it?" I asked. "The name he gave you?"
"Raven," he said.
His eyes came back to attention. His face shifted. His gaze, it went from the past to the present in a moment, and now he was sizing things up once more, fitting pieces together, mentally working at keeping the campaign machine running smooth.
He rapped the door once with his knuckles.
"I'm not going to talk anymore," he said, turning, heading back to his duty.
Raven, I thought.
We've got ravens on the land at Karme Choling. They nest back in the woods, by the cliffs, and when you pass under the trees you feel watched by them. Noticed. And when you hear their croaks and squawks you sense a communication, a conversation, something happening up over your head, concerning not only you and your movements, but also your place within the living whole of those woods.
A flicker of movement caught my eye, up in the second floor window.
I turned over the key.
He was coming.
~~
Have a story about a sangha member near you? Tell us about it! Email your story to us at: [email protected]
Post Tags:
Dorje Kasung
,
Karme Choling
,
sangha
,
sangha profile