Monday
Mandala Projects
Fearless Victory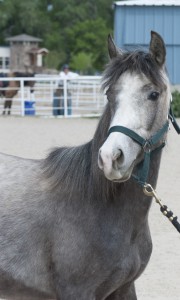 Interview with Margot Neuman
by Shambhala Times Regional Correspondent, Leslie Witt
Margot Neuman is executive director of the Veteran's Peace of Mind Project, providing mindfulness training for veterans suffering from post-traumatic stress (PTSD). Together with the Medicine Horse Program, she developed The Fearless Victory Project for veterans. All programs are based in Boulder, Colorado.
Tell me about Fearless Victory, the name of this project and the name of a horse.
Fearless Victory is a wild mustang foal adopted as a special project by Kathy Johnson, Medicine Horse Program Executive Director, for the veterans in the Veterans Peace of Mind Project, a weekly meditation and mindfulness group.

Fearless Victory is also a four-month-old collaborative project to benefit veterans. It has grown from a day, one and a half years ago, when Veterans Peace of Mind group started meeting in Boulder at the Medicine Horse Program ranch rather than in Central City and Denver. Fearless Victory combines meditation and mindfulness training with the mindfulness required to work with young mustangs who have been traumatized. What happens is that they heal each other.
How did the name come about?

Kathy told the veterans they could name the little horse she adopted for them, but warned them not to get too attached. Fearless Victory had lost her mom and been bullied by the other wild horses. She was so thin, and we feared she wouldn't survive.
Our vets wanted a name that would reflect both meditation and the military. They came up with Fearless for the meditation aspect. About that time Kathy called and said that the vets needed to come soon to work with the horse because she was absolutely fearless and would be tame before we knew it.
When the veterans realized the foal was going to survive they added Victory to her name, for her victory in surviving, and for their victory too.
What led you to realize it was time to bring meditating veterans together with wild mustangs?
For the veterans, sitting meditation was a hard sell, and our weekly meditation groups weren't growing. So I started taking them to see the horses once a month. My husband and I have been involved with Medicine Horse for many years. They were working with youth at risk when we were working with prisoners. So it evolved pretty naturally.
The veterans just loved going out to the ranch; it was a complete joy. And I thought, let's move the whole thing out to Medicine Horse. Bringing the vets to Boulder just seemed the perfect match: meditation and mindfulness training combined with the therapeutic benefits of sunshine, nature, and hearts opened by playful young horses who were learning to trust people.
Is this project unique?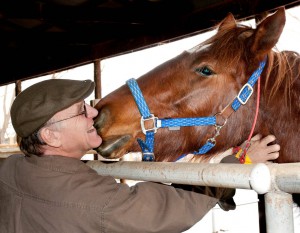 You can find mindfulness training for veterans, and you can find equine-assisted psychotherapy for veterans, but I believe this is the first time the two have been brought together. It's a natural fit. Both are mindfulness based. Horses are complete mirrors of our state of mind. They sense how our mind is, and they respond.
We are working with four young horses at present. We usually begin with meditation. We sit on chairs in a circle in the middle of the stable. The horses are so interested they try to get into the circle. They want to be involved.
Why meditation for veterans? What brought you to this path?
I have been meditating for almost 40 years and I know it absolutely pulled me out of the jaws of hell. My cousin Tommy, my best friend as a child, went to Vietnam. He came back, but he didn't really come back. He died of alcoholism in his early 50s. Kathy Johnson also has a cousin named Tommy who died early from the post trauma of Vietnam. She and I silently think of this as "The Tommy Project." I always felt really bad because I didn't understand what he was going through, I had no idea about PTSD so I was no help or support to him whatsoever.
For the last 10 years, I had really wanted to make mindfulness available to those suffering from trauma. My correspondence with Paul Kendel, as his "spiritual advisor" while he was serving in Iraq gave me a great deal of insight into the terrible circumstances soldiers have to face. Paul, author of Walking the Tiger's Path: a Soldier's Journey in Iraq, had tossed a copy of Sakyong Mipham's Turning the Mind into an Ally into his bag as he left for Iraq, and found it was the only thing that made any sense to him as he confronted the craving for violence he saw around him and the anger he often felt in himself.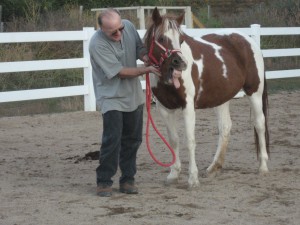 We got the opportunity to develop a pilot program because of a small federal sub-award (for small local non-profits). Our funding carried us through about 10 weeks. After that, we were on our own, but we've been able to keep it going for three years with resources raised elsewhere – mostly squeezing them out of a turnip. Our solid group of vets say it has changed their lives.
Mu husband and I have been working with prisoners for 17 years, and there are a lot of veterans in prison, so moving to veterans was a natural progression. We did a meditation retreat in an Oregon prison with the inmate PTSD support group and 40 to 50 people came to that.
There was a man I worked with at federal prison in Denver who was very violent. When he first came to our weekly meditation group he was overflowing with anger. By the time he left he was a complete mush. He eventually got out, went to school, got married, and he is a totally reformed person. That's meditation; I have heard this same story so many times through the years.
How much does participation cost veterans?
Participating in Fearless Victory's visits to Medicine Horse doesn't cost veterans anything. The cost is covered sporadically by grants and fund raising, but mostly out of our own pockets. We spend money on prisoners, horses and veterans, I joke to my husband. But it is a labor of love and joy.
Could this be called a Shambhala project?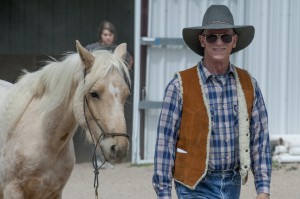 We talk about the Shambhala principles without assigning them a specific label. The meditation is shamatha. One of our veterans is a Zen practitioner. One of our retreat leaders is from the Vipassana tradition. Mindfulness and meditation is what it is all about.
One thing that is really hard for some veterans to buy is the concept of basic goodness. The deepest wound that veterans have is guilt over what they have or haven't done. Or both. They have a deep sense of shame; some have had to kill people and they struggle with this. Some are victims of sexual trauma. Some have received disabling injuries, physical and mental. They've seen horrible things. The best some can do is "suspend disbelief" in basic goodness.
Next year, in 2013, the Fearless Victory Project will hold its first retreat for veterans, at Shambhala Mountain Center.
Yes, this is the first retreat for this collaboration. There are a lot of details to work out. There are two young horses the veterans work with, Fearless Victory and a sweet girl named Snickers, and I hope they come to Shambhala Mountain Center, but we shall have to see how the whole thing evolves.
Do you anticipate making this a regular collaboration? Is Fearless Victory here for the long run?
Yes, because this program is successful for those people who really do it. Most people notice the benefits of meditation right away. And working with the horses is transformative. Finally, all this takes place in nature; Medicine Horse is a beautiful place. So, yes, we are here for the long run.
~~

For more information visit: www.veteranspeaceofmind.org and fearlessvictory.org
Post Tags:
Fearless Victory
,
mindfulness
,
Paul Kendel
,
Veterans