Thursday
Community Articles
On the Road in Shambhala Texas, part 2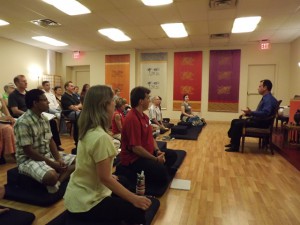 by Paul M. Kendel
My previous talks had been an opportunity for opening up and continuing the healing process since my return from Iraq. However, my visit to San Antonio would be fruitful not for myself, but for a friend. Raised as a "dharma brat", Morgan was present for Chogyam Trungpa Rinpoche's parinirvana when he was seven years old. Joining the military after high school he quickly became disconnected from the sangha. Ten years later he is now rediscovering a family that had been missing from his life. With three deployments to Iraq, Morgan has his own personal issues to contend with.
During my talk the direction and focus unexpectedly shifted. Morgan had experienced his share of pain and loss over the course of ten years in the military, but had kept silent. Surrounded by fellow soldiers on a daily basis who had "been there, done that," you are expected to suppress your wartime traumas. The "macho world" of soldiering looks down on regret and internal conflict – you suck it up and drive on! But a "warrior" in the U.S. military is a far cry from a "Shambhala warrior," where one allows the rawest elements of oneself out in order to express true bravery. With tears in his eyes, Morgan began to share his feelings of guilt and loss due to his own war experiences. Our audience was transfixed by his genuineness and sensitivity; he expressed what Trungpa Rinpoche refers to as "the tender heart of sadness."
Our last stop was Dallas. I only added this talk a few weeks before our departure, and without knowing anyone from the Center. But thanks to the magic of Shambhala, I encountered the largest turnout of all my talks. Recently discharged veterans of Iraq were in attendance, members of non-Shambhala meditation groups and individuals who were actively working with veterans with PTSD. Nearly half of the attendees had never visited the Center before. The talk proved rewarding for all, and hopefully brought new members into the sangha.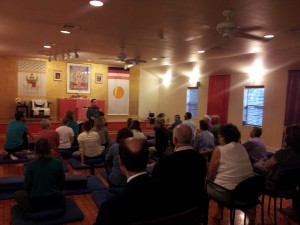 It was also the first time I had spoken in front of young Iraq war veterans who had no affiliation with Shambhala and had never practiced meditation. It is easy to make my spiritual journey that began in Iraq and the writing of my book resonate with sangha members; most are already receptive to the teachings and possess a more "liberal" view toward politics and war. At the conclusion to the talk both of the young Iraq veterans came up to me and shook my hand. My stories of callousness toward Iraqis by certain members of my unit and the deaths of innocent civilians had struck a personal chord – both had seen what I had seen and weren't proud of it. Both appreciated the fact that I was willing to sit in front of an audience and let it be known that such things occur in war. It was a type of affirmation that such dark elements are a reality and the best way to deal with it is to let it out into the open.
With my involvement in the program for veterans at SMC in the coming year, it was important to learn how to express the poignant messages of my experiences within a secular context in order not to offend the sensibilities of visiting veterans unfamiliar with Buddhism or the Shambhala teachings. The talk in Dallas made a perfect culmination to our road trip through Texas. I will never forget the kindness and generosity shown by its members toward my son and me.
On the return to Jacksonville under the seemingly endless blue Texan sky, I reflected on my visit to the Shambhala centers. The American Revolution would not have succeeded without the support of the smallest colonies, and the same goes for Shambhala. Sitting in a shrine room in front of an audience, I often feel as if Trungpa Rinpoche's vision of an enlightened society already exits. It may be for only two hours, but I am surrounded by caring and compassionate people with open minds who appreciate genuineness and basic goodness within themselves and others. Whether there are ten people or a hundred in attendance doesn't really matter; what matters is our connection, not just with the teachings of Chogyam Trungpa Rinpoche or Sakyong Mipham Rinpoche, but with the brilliance of the Great Eastern Sun.
Post Tags:
books
,
Paul Kendel
,
Texas
,
travel
,
Walking the Tiger's Path