Thursday
Community Articles
On the Road in Shambhala Texas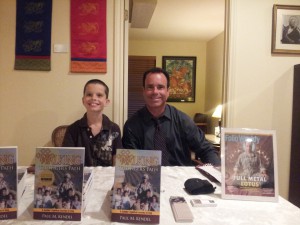 by Paul M. Kendel
Armed with my son Sean, who quickly adopted the role of roadie/tour manager and promoter, we set off from Jacksonville, Florida, for our ten day odyssey through Texas. We spent the first night in New Orleans, but Bourbon Street, bars, and the numerous gentlemen's clubs lining it aren't that conducive to the healthy interests of an eleven year old.
So we pressed on early the following morning to Houston, the smallest Shambhala center in Texas. I expected the turnout for the talk to be limited; those expectations and our arrival coincided with three days of heavy rain which had seriously flooded parts of Houston and its environs. We were invited to stay at the home of a kind sangha member. When I tell people in Jacksonville I'm visiting a Shambhala center, they are amazed to hear that a complete stranger is willing to invite me in without knowing me. But that is the joy of the Shambhala community: kindness and trust. It was what helped me survive Iraq, a painful homecoming, and placed me on an unexpected road trip through Texas.

Over the last six months I have given a number of talks based on my book, Walking the Tiger's Path: A Soldier's Spiritual Journey in Iraq. My journey through the heart of Texas would include four talks in six days with the title/theme Outer War, Inner Peace, essentially a reflection on the past ten years of war from a Buddhist perspective. The "outer war" is of course the physical battlefields of Iraq or Afghanistan. "Inner peace" is the struggle to deal with the long-term effects of war on the individual.
The talks were going to be a warm up for a program I'm involved with under the same title at Shambhala Mountain Center (SMC) this coming year. The subtitle for the SMC program is A Non-Denominational Program for Veterans and their Families. There are now numerous organizations designed to utilize more secular meditation techniques to assist veterans with Post Traumatic Stress Disorder (PTSD) and other emotional issues relating to wartime service. It is the Sakyong's wish that Shambhala play a part in this work. Joining me for the program is Margot Neuman, executive director of the Ratna Peace Initiative, whose non-profit work involves providing services to Buddhists in prisons and veterans interested in secular meditation practice.
The warmth and compassion of the Shambhala community aided me greatly in dealing with personal issues related to my service in Iraq, and it is my hope that I can return the favor and show others, veterans or not, how the Shambhala teachings and involvement in the community can change one's life.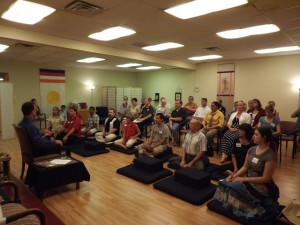 Driving to the four centers in Texas proved to be a far deeper experience than my previous talks. The trip evolved through an invitation from a friend living in San Antonio who is both a member of the Shambhala community and an active duty soldier who I had served with in Iraq. This led to the scheduling of talks in Houston, Austin, Dallas, and a full blown road trip across the Lone Star state.
Generous donations have allowed Shambhala in Houston to survive and the center itself is beautiful with a recently renovated shrine room. When the Sakyong visited a number of years ago the total attendance was around thirty people. I got around ten. Considering the offering of war stories vs. teachings from the "Earth Protector" I was extremely happy with only a third of his attendance. My son reveled in his duties as tour promoter, using his bright blue eyes and charm to talk people into buying my book and then collecting the money. He was given a crash course in Tibetan deities, shrine room etiquette and how to sit on a cushion properly – and enjoyed it immensely.
Our next stop was Austin, the oldest and largest center in Texas. The city reminded me of Boulder with people outside jogging and biking, and the prominent music and art communities. It's the perfect city for a Shambhala center to thrive. The sangha members were of course kind and generous. Walking through the wooden tori gate, we bowed and entered a beautiful mixed flower and rock garden in the front. Stepping onto the wooden veranda, we went into the elegantly uplifted building. A smaller house and yard out back creates a sort of self-contained Shambhala compound where activities for children take place within a dignified and protected world. Sean, quickly given a tour, was impressed by the artwork and colors, and seemed at ease and inquisitive.
The turnout for the talk was excellent and the reception the same. Sean beamed with pride and sat properly on his cushion through most of the talk. The following day we joined members of the kasung where I discussed how kasung practice could be an effective tool for the U.S. Military. Military operations, such as in Afghanistan, as well as those in the future, will involve personal one-on-one interactions with locals and their communities. Gung-ho approaches to war are a thing of the past. A more "mindful" approach to dealing with war and conflict can mitigate disasters as our post-invasion Iraq strategy proved. The kasung may not carry guns, but proper mindfulness can prevent the need to use one by diffusing a possible volatile situation before it arises. But this takes practice. It also takes "situational awareness," a military term that exemplifies the practice of the kasung and their duty to provide a "container" for the sangha and protection for the Sakyong and his family.
Post Tags:
books
,
Paul Kendel
,
Texas
,
travel
,
Walking the Tiger's Path