Friday
Community Articles
Celebrating Same-Sex Marriage
Introducing a NEW REGULAR FEATURE:

ENLIGHTENED SOCIETY CELEBRATES DIVERSITY
by Shastri Charlene Leung, Chairperson Shambhala Diversity Working Group
With the Enlightened Society Treatise being shared around the mandala from person to person as a "cascading lung", there's a new buzz on the planet. But what does enlightened society really mean in your daily life? How can we experience the goodness of society now? What does celebrating diversity have to do with enlightened society?

As we have heard from the Sakyong Mipham Rinpoche, enlightened society begins with a relationship between two people, makes links to others and extends beyond, forming a network of human connections. How far does our network of human connections extend? In enlightened society human relationships foster wakefulness which naturally leads to insight. When we are awake, we appreciate the simple goodness of being alive. In the Enlightened Society Treatise, the Sakyong writes that enlightenment means completely waking up to our beating hearts.
Enlightened society wakes up to the beating hearts of others. How far can we extend our network and open to others beating hearts? What about others not like us? While all beings are basically good, we are not all the same. We are diverse, we are of different genders, races, ethnicities, sexual orientations, socioeconomic backgrounds, religions, ages, political beliefs, physical and mental abilities. Our diversity is humanity's richness. Yet, so often we gloss over differences or avoid the awkwardness of not knowing what to say, or we take refuge in prejudice. When we take the time to explore the reality of others, we discover, expand and enrich the world.
Enlightened Society Celebrates Diversity will be a regular feature in the Shambhala Times. It will highlight and celebrate diversity within the Shambhala sangha. Learning more about others who may not be "like me" is an opportunity to connect to another beating heart, to open and celebrate others.
This month we celebrate same-sex marriages in Shambhala.

President Reoch states that "… we are an open and welcoming community to people of all sexual orientations…we can be clear that we are open to and welcome people to our community and programs whether they are single or in relationship, celibate or otherwise, and regardless of the gender or any other characteristic of the people they love, are in relationship with, or married to. We are also open to people who have views one way or another on any of these issues. Our centers are places where people's minds and hearts can open to themselves and to each other. The primary allegiance of a Shambhala vision is not to the opinions and concepts that often divide people from each other, but to the ground of our profound, common humanity — the inherent basic goodness of all life.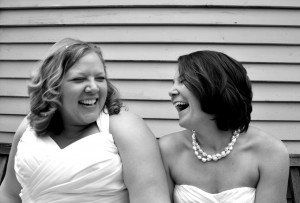 Kate and Ming Linsley (Katherine Jigme Baker Linsley and Ming-Lien Linsley)
Married September 17th, 2011. Meditation teaches us to know and become comfortable with ourselves. That opportunity to reflect on, and engage one's own confidence, has been invaluable. Obviously, this is true regardless of one's sexual orientation, age, race, gender, ability, etc., but it is a particularly useful and powerful tool when you find yourself in roles where people often publicly question your place in society.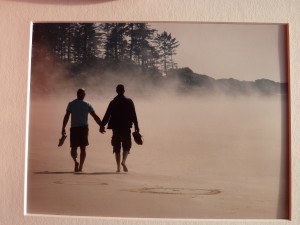 Cameron Wenaus and Shaun Shelongosky
We got married on June 26th in 2010 under the full moon at Cox Bay Tofino, BC. We had a lhasang before and fireworks after. It was a small wedding with friends and family, but it was 7 days long including staying on our B&B boat at Hot Springs Cove in Tofino. We had whale watching, wilderness beach BBQ's and dancing on the boat. We exchanged vows – one of them being that recognizing the nature of impermanence, this relationship will change and will end, and when it does, may it end with as much love as it came together.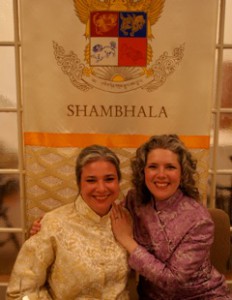 Acharya Eve Rosenthal and Basia Solarz
Soon after we were married in 2005, we received warm congratulations from the Sakyong. This meant more to us than the fact that Canada had recently recognized same-sex marriage as the law of the land, although that was pretty wonderful, too. Around the same time, we were watching a documentary on TV with a prominent Tibetan Buddhist teacher, and were disconcerted to hear him say that being in a same-sex relationship was incompatible with Buddhism. We promptly went to the Shambhala website and to our great relief, found the statement on diversity, which was explicit in its welcome of sexual minorities, people of color, and others. Although our lived experience in Shambhala rarely suggested otherwise, it was a relief in that moment to see a public statement of inclusion. For us, this has been a very genuine experience of the Shambhala community making good on its aspiration to realize enlightened society.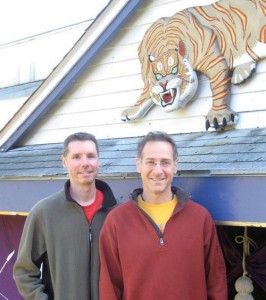 Mark Ishaug and Micah Krohn
Before same-sex marriage there was same-sex mortgage, and for 15 years before we married, we considered ourselves "30-year-fixed", which we thought was just as good. Then a few years ago, the same-sex marriage movement gained some momentum and a neighboring state, Iowa, recognized it, raising some eyebrows. Who knew? We thought that was a sign, and jumped aboard what for us, at its root, is a human rights movement. Time to raise our hearts and voices in another round of human kindness. It happened that Vermont legalized same-sex marriage right around the time we were planning to go to the Sangha Retreat at Karme Choling in October 2009. So the stars were aligned, and the sweet, awesome Jane Arthur married us on a brilliant New England fall day. The sky was vast and blue. And although we knew only a few folks at the retreat, some 40 sangha members joined us for a walk up that path, circling three times round the Purkhang, and circling the hill that has the tree planted by the sixteenth Karmapa. The Purkong was covered with ladybugs as we passed, Trungpa Rinpoche's spirit and magic were all around. We made our vows, shouted Ki Ki So So to shake the autumn air. The beauty of the place surrounded us. That night, we feasted alongside the Sakyong and the Sakyong Wangmo. Beautiful music played and waves of quiet, compassion and a mind of majesty and mischief was all around us. We are so grateful to the Sakyong, the Sakyong Wangmo, Jane Arthur, the folks at Karme Choling and the sangha. We are grateful for the spirit and generosity that flows through the Shambhala lineage and has touched us. Ki Ki So So!
Post Tags:
Charlene Leung
,
diversity
,
Diversity Working Group
,
Enlightened Society
,
Enlightened Society Celebrates Diversity
,
marriage
,
Wedding Announcements