Saturday
Featured Stories
Restoring the Right to Vote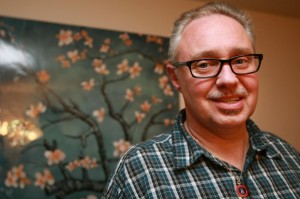 by Scott Stinson, Casper, Wyoming
For the last 13 years I have been in recovery from an addiction. Fifteen years ago I was arrested and convicted of a drug charge. When this happened I forfeited some basic fundamental rights that most folks take for granted.
Recently, I was interviewed by the local newspaper because I am one of only 59 people who have successfully petitioned the state for the restoration of the right to vote. The article talks about people who, because of past conduct, find themselves "disenfranchised" with regards to the right to vote. To my surprise the paper saw fit to put it on the front page.

Scott Stinson became his own statistic.

When Stinson was enrolled in Casper College's paralegal program, he used to joke with classmate Craig Silva that felony drug charges were going to be part of the government's scheme to create a large, nonvoting population.

"The ironic thing was, I ended up going to prison; he went to law school," Stinson said of the Casper attorney.

Now 15 years away from a methamphetamine conviction, with his old friend's help, Stinson will be voting in a general election for the first time since Bill Clinton was president.

Read the rest of the article by Megan Cassidy by clicking here.
We all struggle with the labels we create for ourselves, or that are placed upon us by parents or institutions like the government. When a person is engaged in a deadly dance with a substance, they often then receive a diagnosis of substance dependence and then further victimize themselves by accepting that diagnosis as a concretized identity. Then the struggle is to break free from that identity, if they are ever able do.
In my case, the labels of 'addict,' 'drug dealer,' and 'felon' affect me on not only a personal but a societal level. They restrict my individual choice and ability to function as a full citizen. Even after being clean and recovering for a few years through a twelve-step program, I still struggled with feelings of intense longing and incompleteness. Finally, through practicing meditation and studying, I found Shambhala and the teachings on basic goodness. Then I began to experience wholeness and freedom, and learned to rise above the restrictions of labels.
Later on I took the refuge and bodhisattva vows. This has fueled a burning desire in me to see others experience the same kind of wholeness that comes from knowing one's own goodness. That is why I work with people who have lost themselves in addiction and criminal activity. Over the course of these years, I have gone to school and earned degrees in Addictionology and Social Work and am also now a licensed mental health professional.
As a citizen of Shambhala and America, I feel I have a responsibility to cast a heartfelt vote. In my precious human birth I am free and well favored and have an opportunity to make a difference however small it may seem. That's why it has been important to me to pursue application for restoration of voting rights. Not only for myself, but for others like myself who may feel disenfranchised. I believe and strive to practice the vision of social action and enlightened society in my affairs.
It seems easy these days to stand outside the political system, to be discontent and critical. How can things get any better if we don't get involved and use our generosity, patience, discipline and exertion to effect a positive change? There is tremendous goodness and opportunity in our system – if we will use it.
Living in Wyoming we are geographically separated from the larger sangha in Colorado. There are only a few of us who meet and meditate together. We are able to host a few programs as we go along. Still we consider ourselves blessed and able to accomplish the things we set our minds to. Perhaps you'd like to visit us sometime?
Post Tags:
politics
,
sangha
,
voting
,
Wyoming