Sunday
Arts and Poetry
The Sakyongs Have Returned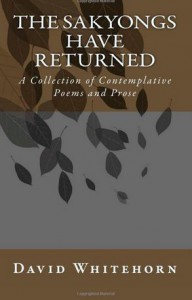 Introducing a new a collection of contemplative poetry and prose: The Sakyongs Have Returned
by David Whitehorn
Spontaneous poems and toasts are a delightful part of Shambhala culture. Perhaps like other long-time Shambhala practitioners, throughout the years I have been writing down spontaneous poetry and prose whenever the thought to do so arises, or in relation to particular events such as birthdays, anniversaries of deaths. Mostly these writings were for myself, sometimes I was able to share them with others.
I had never thought to publish these writings, but given my advancing age (I am 71 years old) and the amazing advances in self-publication technology, this year I gathered together a few poems and one prose piece, most from the past several years, and put them together into a book entitled 'The Sakyongs Have Returned' (the title of one of the poems).

Some of the poems are addressed directly to the lineage of Sakyongs and to the current lineage holders, including three poems for Jetsun Drukmo, the first child of the Sakyong and Sakyong Wangmo. Other poems are more general reflections on the Shambhala teachings and their application in everyday life. Several are, as mentioned earlier, directly related to birthdays, anniversaries and deaths. The one prose piece, entitled 'Advice to a young person' was written for my daughter on her 24th birthday in 2011.
In preparing the book I benefited greatly from conversations with David Brown, Executive Secretary to Sakyong Mipham Rinpoche. Mr. Brown has also been kind enough to write a short review of the book, including the following comments:
"I am pleased to recommend this wonderful collection of works in which Dave Whitehorn expresses in clear, simple language, the Lineage of Sakyongs' profound effect on our world. May all uncover their fundamental goodness through this excellent offering."
I am pleased to offer one of the poems, entitled 'From retreat', which was written down, as were several others, during solitary retreat.
From retreat
(for Sakyong Mipham Rinpoche)

Although I continually experience 'me'
And, therefore, suffer from hope and fear,
I do appreciate the cosmic mirror.

Although my visualization is vague and inconsistent
And my mind wanders endlessly,
I do appreciate the magnificent mandala of Dralas.

Although my understanding is limited
And I latch onto concepts like shiny new toys,
I do appreciate seeing concepts as empty of essence.

Although my mind strays into negative thoughts
And I look upon them as signs of spiritual failure,
I do appreciate the equanimity of one-taste.

Although my discipline erodes in the world of distractions
And my addictive habits inevitably emerge,
I do appreciate moment-to-moment trekcho.

Although my manifestation with others is often unskillful
And I hold back from being genuine,
I do hold unwavering loyalty to Shiwa Okar, to the Rigden King,
To the Sakyong Wangpo, and to the Sakyong Wangmo,
In my heart.

May the tiny effort and inconsistent manifestation
That I, and fellow warriors in training, put forth
Mix with and support the energy of the Dralas,
The self existing intelligence and compassion
Of the unfolding Kingdom of Shambhala.

~ Mountain Drum (David Whitehorn, Rupon)
3am, 20 November 2010
Mamaki Cottage, Milk Lake Shambhala Retreat Centre
It is my heartfelt aspiration that these poems will contribute in some small way to the emergence of good human society in our time.
The book is available from Amazon.com and Amazon Europe.
Post Tags:
David Whitehorn
,
poetry
,
Sakyong