Monday
Video, Audio, Photos
Two Minutes of Basic Goodness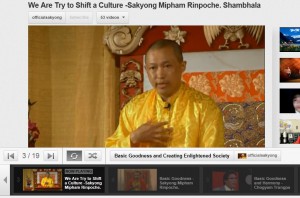 from Hamish Maclaren on the Accessibility and Disability blog on the Shambhala Times
For the next couple of months two or three times a week video clips of the Sakyong talking about basic goodness and creating enlightened society are being posted to the Sakyong's –Official YouTube Channel. The clips are all from talks he made at the Being Brave: Transforming Your World Shambhala Retreat in Halifax last fall.
As you may already know, both in Halifax and online, thousands participated in this five-day retreat aimed at awakening kindness and courage in order to shift the direction of human destiny and bring about global change. These short clips, averaging about two minutes long, capture some of the key points that the Sakyong made and are intended to provide very accessible, pithy, and thought provoking glimpses into basic goodness, creating enlightened society and how we can help to bring about this social transformation.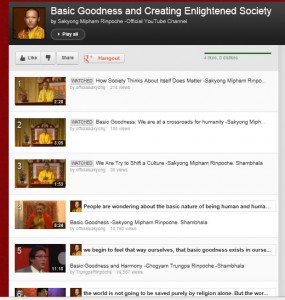 As the videos are posted they will be added to the YouTube playlist entitled Basic Goodness and Creating Enlightened Society. This playlist already has related videos by the Chogyam Trungpa Rinpoche, the Sakyong and other Shambhala Teachers.
There are also already similar playlists on the channels:
Shambhala auf Deutsch (in German)
Shambhala en español (in Spanish)
Shambhala en Français (in French)
Shambhala em português (in Portuguese)
We hope you will enjoy these videos and find them useful.
They will all gradually be closed-captioned in English and other languages as translations become available.
In terms of the video quality, you might be able to improve the image resolution of the video by clicking on the small cog-like circle below the video to the right and selecting the highest available resolution.
~~
For more information about accessibility of media in Shambhala, please visit the Accessibility and Disability blog on the Shambhala Times.
To view more 2-minute videos, please visit the Official YouTube Channel for Sakyong Mipham Rinpoche.
Post Tags:
accessibility
,
Sakyong Mipham
,
Video