Friday
Mandala Projects
Surmang Dances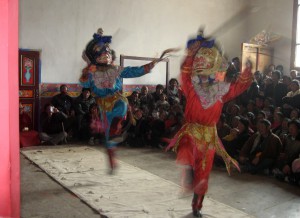 by Lyndon Comstock
photos by Surmang Khenpo
Meditational dances are a traditional part of the annual cycle of practices at Surmang monastery in Tibet, the home monastery of the Trungpa lineage. The Tibetan vajrayana tradition includes many intricate practices, all geared towards helping the practitioner clarify their mind and be present with things as they are. As with other visualization practices, the participants in meditational dances enter the mandala of specific meditational deities and identify with those deities. The participants who enter the mandala include not only the dancers but also the hundreds of other people in attendance.

The Chakrasamvara dance is a particular practice of Surmang Dutsi Til, Chogyam Trungpa's home monastery. It was directly transmitted by Chakrasamvara and Vajrayogini to the first Trungpa, Kunga Gyaltsen, in a shrine room of the kargenma (Shelabum's castle) centuries ago. The dancers, representing Chakrasamvara and Vajrayogini, wear blue robes with elaborate hats. Their faces are not covered. The Chakrasamvara dance takes place over three days.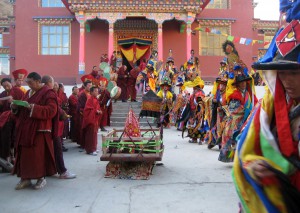 On the first day, following an instruction given to the participants, the mandala is established. On the second day, the land is pacified. The first and second day practices are accomplished in a half day each. The third day, the main day of the practice, takes place continuously over 24 hours, requiring 360 specific movements by the dancers. Choseng Trungpa Rinpoche, the abbot of Surmang Dutsi Til, is one of the dancers seen in these photos. His predecessor, Chogyam Trungpa Rinpoche, had also been a Chakrasamvara dancer.
The peaceful and wrathful deities dance is based on a terma by Chokgyur Lingpa. As can be seen in the photos, the dancers wear masks invoking various meditational deities.
Surmang Khenpo took these photos and provided the comments that I've summarized here. I asked him how the lay people view their attendance at the Chakrasamvara dance. He explained that, "They regard it as a way of gaining merit and purifying bad karma, increasing the possibility that they will be reborn in their next life within the mandala of Chakrasamvara."
Enjoy the visual splendor of this slideshow below. Click on the first image to view as a slideshow.
~~
The Konchok Foundation provides support for the Surmang shedra. For more information about the Konchok Foundation, please click here.
Post Tags:
Surmang
,
Surmang Foundation
,
Tibet