Thursday
Scene and Heard
Death of Sherab Palden Beru, Thangka Master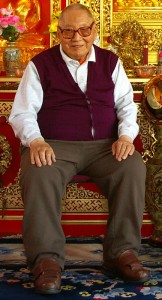 Sherab Palden Beru was an exquisite thangka painter who died recently on the 29th of November, 2012. He was trained at Namgyal Ling in painting as well as other arts, including dance. He escaped the Chinese invasion in 1959, fleeing to India, where he remained in exile until moving to Kagyu Samye Ling (KSL) in Scotland at the request of Chogyam Trungpa and Akong Rinpoche.
He remained in Scotland until his death, at age 101. His years at KSL were spent, in no small part, both creating masterworks and saving and restoring extant ones retrieved from Tibet.
The passing of Sherab Palden Beru comes as a great loss to the global Buddhist sangha as well as to the Shambhala sangha. Not only creating a huge oeuvre of gorgeous thangkas to inspire our practice, he also trained a generation of painters in the tradition.

Says sangha member Judith Smith, "I was stunned by learning that it was Sherab Palden Beru who drew the Tiger Lion Garuda Dragon images with which we are so saturatedly familiar!"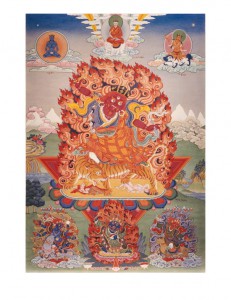 Many Shambhala practitioners are also familiar with the image of Dorje Trollo that was painted as a visual aid for practicing the Sadhana of Mahamudra, one of the first practice texts created by Chogyam Trungpa for his students. Students will also be familiar with the large Vajradhara thangka that now hangs in a place of honor in the Great Stupa of Dharmakaya at Shambhala Mountain Center.
Sangha member Cathryn Stein shares that, "Sherab Palden Beru attended the 1976 Seminary, invited by the Vidyadhara, Chogyam Trungpa Rinpoche, to design the Tiger, Lion, Garuda, Dragon figures. I was one of his attendants along with David McCarthy and Tessa Pybus. He lived in a cottage behind the Seminary building in Land of Lakes. Every third day for three weeks I watched his meetings with the Vidyadhara as he first drew and then consulted with the Vidyadhara to realize the current designs. He was a quiet, humble and gentle master."
Thangka painter and resident at Shambhala Mountain Center has offered us the following short video tribute to this great master who so deeply influenced his own life and work. From the beginning of Greg's training in dharma and art, he says, "his work was there to set an incredible standard."
~~
Please see the Kagyu Samye Ling website for a full obituary and aspirations for prayers by clicking here.

A wonderful book of tribute to his work and his life can be viewed online by clicking here.

The story of the Great Vajradhara of Dorje Dzong can be found on Chronicles of Chogyam Trungpa Rinpoche by clicking
here.
Post Tags:
Chogyam Trungpa
,
death
,
Samye Ling
,
Sherab Palden Beru
,
Warrior Tribute