Wednesday
Scene and Heard
Celebrating an Acharya's Wedding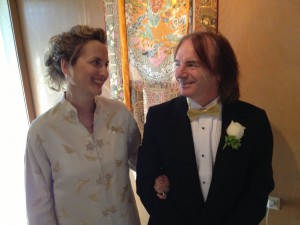 Shambhala Times is Delighted
to Announce the Wedding
of Acharya Emily Bower to Dr. Peter Alan Roberts
article and photos from Acharya Emily Bower
On December 28, 2012, in a joyful ceremony at the Los Angeles Shambhala Center (East), I married Peter Alan Roberts. Our guests braved the holiday travel season to join us, with family coming in from Wales (UK), Massachusetts, Maine, Virginia, North Carolina, and Northern California. The officiants for our ceremony were Rose Taylor Goldfield and Ari Goldfield. They made beautiful remarks about love, marriage, and the four elements of earth, water, fire, and air, which we offered in the ceremony. At the end they showered us with rose petals and then the whole assembly imbibed a glass of bubbly while we took family photos, which happened to include Vajradhara.

Our wedding coordinator, LA sangha member Alice Toohey, and her husband Sean, made the morning beautiful and carefree for us. Regarding harpist Carolyn Sykes, another LA sangha member, well, our parents are still talking about the delightful, ethereal atmosphere she created at the Shambhala Center with her choice of music and her amazing touch.
Our reception featured a delicious lunch followed by enthusiastic dancing at the Beverly Garland Holiday Inn in North Hollywood. We had a red-velvet cake with a very generous amount of butter-cream frosting. (I took the opportunity of the second venue to appear in a second outfit.) A wonderful time was had by all.
Click on first image to view as a slideshow.

For those who don't know him, my Dr. Roberts is a Tibetan translator and interpreter, Sanskrit scholar, and specialist in the study of Milarepa and Rechungpa. He is the author of The Biographies of Rechungpa, and is a translator of Mahamudra and Related Instructions, along with many practice texts and published books of teachings by Tibetan masters.

~~
Have a wedding, big anniversary, or other community announcement you want to share? Email us: [email protected]
Post Tags:
Acharya Emily Bower
,
Wedding Announcements